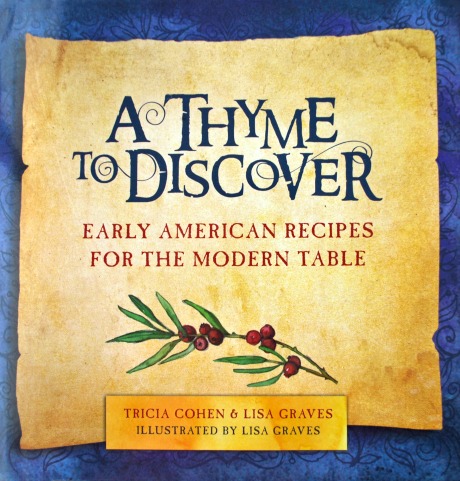 Have you ever wondered what it was like for the first European settlers in America as they learned about the unfamiliar foods available to them? Or how they adapted those new foods to their recipes and equipment? If so, you'll enjoy A Thyme to Discover: Early American Recipes for the Modern Table by Tricia Cohen and Lisa Graves, with Lisa Graves' lovely illustrations throughout.
A Thyme to Discover helps the reader gain an understanding of our early American forebears through the food and drink of the times. Although not a comprehensive history of colonial cookery, it's a light, easy read, full of interesting stories and information along with tempting period recipes updated to utilize modern ingredients in modern kitchens.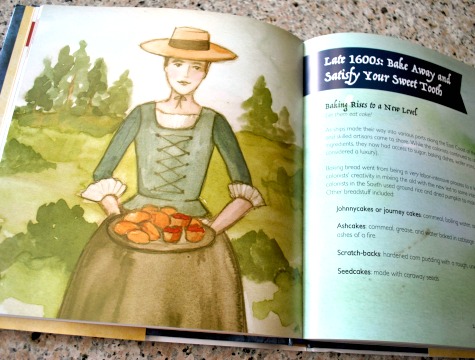 Cohen and Graves bring a sense of humor to their book, and some of the recipe names are real groaners, like Mary Ate a Little Lamb (a traditional Scotch lamb and root-vegetable soup) and Praise Be to Cod (cod cooked in parchment). They use puns to introduce some of the historical passages, too, with headings like Polly Want a Quaker? and Let's Go Dutch, discussing New England's Quakers and New York's Dutch settlers.
There are also stories of America's first food and beverage companies and taverns, some of which still exist in one form or another. For example, what is now King Arthur Flour originally began in 1790 as the Sands, Taylor & Wood Company. The Green Dragon tavern, established in Boston back in 1654, has been through many variations and locations and is still a popular destination.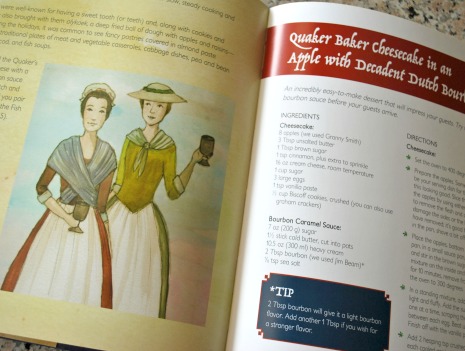 But since A Thyme to Discover is indeed a cookbook, let me tempt you with some of its recipes:
* Blueberry Layer Cake
* Beef Steak Pie
* Pumpkin Soup
* Boston Brown Bread and Baked Beans
* Warm Mulled Apple Cider Sangria
* Savory Cranberry Bread Pudding
Skillet Flatbread is the first recipe I made from A Thyme to Discover, and while making and eating it, I was imagining how a colonial woman would have made similar bread for her family. She, too, might have used a cast-iron pan, but hers would have been over a hearth and not an electric stovetop and she probably would have used soured milk rather than Greek yogurt. The bread is like a thin biscuit, quickly put together from a few simple ingredients. Although my first attempt resulted in a broken and somewhat crumbly bread, I liked it very much and am hopeful that with experience, my future attempts will come out even better.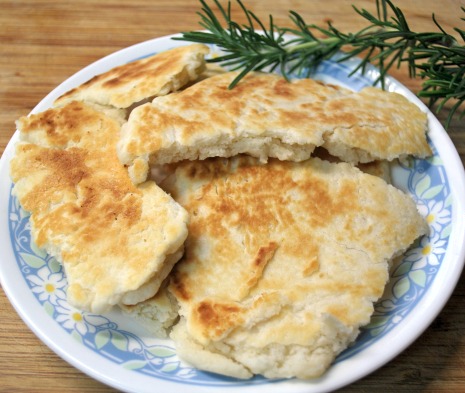 This book is actually the second in a trilogy of illustrated historical cookbooks by Cohen and Graves. The first, A Thyme and Place: Medieval Feasts and Recipes for the Modern Table, covers events and foods of the Middle Ages. In A Thyme to Discover, they cross the Atlantic and the years to the Seventeenth and Eighteenth Centuries in the New World, from the earliest settlers and Native Americans through the founding of The United States of America. I don't know what's in store for the third book in the series, but I do know that I'm looking forward to reading it.
* This post contains affiliate links. If you make a purchase, we may or may not receive a small commission which helps to support this site. Thank you!
Giveaway: One lucky winner is going to win their own copy of A Thyme to Discover, thanks to Skyhorse Publishing.
Giveaway Details: This giveaway is open to residents of the US ONLY age 18 and over. Please read our Terms of Service & Disclaimer Policy before entering. This giveaway will close on January 19th, 2018 at 11:59 pm EST time. No purchase necessary to enter or win.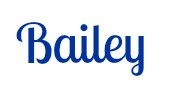 Disclaimer: A. Bailey received a complimentary product for review purposes & feature on The Classy Chics blog. No monetary compensation was received. A. Bailey's thoughts, opinions and words are 100% her own. Your thoughts may differ. Please read the blog's terms of service policy before entering any giveaways. The Classy Chics are NOT responsible for prize fulfillment or shipping of any items won from this blog.