Cauliflower is one of my favorite vegetables, especially when it's prepared right. I enjoy it baked, grilled, steamed and even slow-cooked for hours in some type of creamy sauce. Cauliflower, it's good for you and typically is easy to prepare.
Today's guest-post recipe is courtesy of The Cocoa Exchange. You can visit their website to learn more about them and to get additional recipes.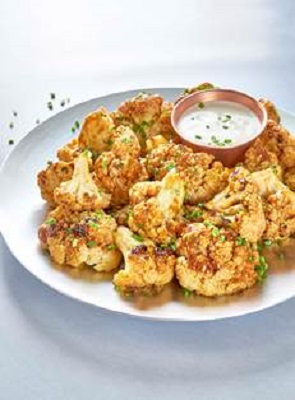 Spicy Sweet Grilled Cauliflower Recipe
1/3 cup POD & BEAN™ WHITE CHOCOLATE RASPBERRY HONEY MUSTARD
2 Tbsp. POD & BEAN™ CHIPOTLE HOT SAUCE
2 Tbsp. butter, melted
1 head cauliflower, cut into large florets
2 Tbsp. canola oil
2 Tbsp. chives, chopped
Boil large pot of salted water on high heat. Place cauliflower in boiling water for 1-2 minutes and then remove from water and allow to drain. Run cold water to stop the cooking process.
Heat grill to medium heat. Drizzle canola oil over cauliflower and toss gently.
Combine POD & BEAN™ WHITE CHOCOLATE RASPBERRY HONEY MUSTARD, butter, and POD & BEAN™ CHIPOTLE HOT SAUCE in a large bowl and set aside.
Place cauliflower on grill and cook until slightly crisp and cooked through, about 10 minutes. Transfer cauliflower to a large bowl and gently toss until well coated.
Return cauliflower to grill, close lid and allow to cook for an additional minute. Remove from grill and serve immediately.
* This post contains affiliate links. If you make a purchase, we may or may not receive a small commission which helps to support this site. Thank you!