On November 14th, 2017, Public Media Distribution, LLC, will release the brand new DVD, "REGAL ACADEMY: ROSE CINDERELLA IN FAIRY TALE LAND."
Rose Cinderella thinks she is a regular teenager, but things change when she finds a magic key unlocking a world where fairy tales come to life! Rose Cinderella quite literally falls into Fairy Tale Land and discovers that Cinderella is not only her grandmother but also the headmistress of Regal Academy, a school where fairytale families teach the next generation how to become heroes.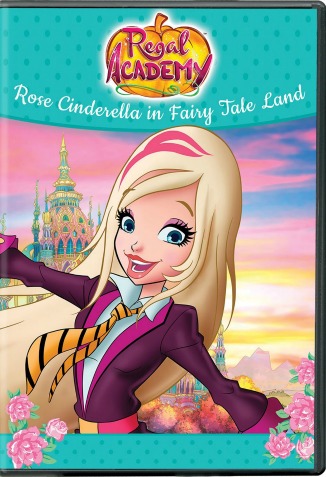 * Complimentary DVD Received for Review.
"REGAL ACADEMY: ROSE CINDERELLA IN FAIRY TALE LAND" (SRP$12.99) will be available on DVD November 14th, 2017 and has a run time of approximately 72 minutes. Episodes featured on the DVD will also be available for digital download.
The episodes on this DVD include:
"A School for Fairy Tales"
Rose was a normal girl from a normal town with a super-normal love of fairy tales, who falls – literally – into the Fairy Tale Land. There, she discovers that all the fairy tales she knows and loves have had one big adventure that never made it into the storybooks: they got old! Rose is enrolled at Regal Academy under headmistress "Granny" Cinderella with classmates Hawk Snow White, Joy LeFrog, Astoria Rapunzel and Travis Beast. They're all grandchildren of famous fairy tales, but what about Rose? Could she really be the lost granddaughter of Cinderella herself?
"The Great Dragon Race"
It's the day Rose, Hawk, Travis, Astoria and Joy have been waiting for – it's time for them to learn how to ride dragons! But the teacher, Coach Beast, is a real taskmaster, and he's determined to make life miserable for his grandson Travis. Class ends with a race to Dragon Land, but when Rose is separated from the others, she'll have to earn the trust of her dragon in time to get back in the race and save the others from a big crash at the finish line!
"The Swan in Swamp Lake"
Rose is excited to meet Magister Rapunzel, the literature teacher, but is not so excited about climbing up Library Tower just to get to her class. After Rapunzel has an argument with her granddaughter Astoria in class, Rose, Astoria, Hawk, Joy and Travis are sent into the swamp for their assignment. What sounds like a boring day of hunting down plants turns into chaos when Joy becomes a frog and the boys have to kiss every frog in the swamp to find her, meanwhile the evil Vicky creates a super-gross monster to confound our heroes, and even the granddaughter of the legendary swan princess makes an appearance!
My daughter is 8 1/2 years old and still loves anything and everything to do with Princesses. I sat down with her and my 2 year old son to watch this brand new children's DVD and I have to admit, its really cute! There are 3 different episodes on the DVD with each one having an entirely different story line. The characters are adorable and the story lines are entertaining, even for us adults who are watching the DVD along with our children.
The holidays are just around the corner and this brand new children's DVD would make a great holiday gift or stocking stuffer this year.
* This post contains affiliate links. If you make a purchase, we may or may not receive a small commission which helps to support this site. Thank you!
Giveaway: One lucky winner is going to win the Regal Academy: Rose Cinderella in Fairy Tale Land children's DVD.
Giveaway Details: This giveaway is open to residents of the US ONLY age 18 and over. Please read our Terms of Service & Disclaimer Policy before entering. This giveaway will close on December 4th, 2017 at 11:59 pm EST time. No purchase necessary to enter or win.

Disclaimer: Jenelle C. has personally reviewed the product listed above. Jenelle has not received any monetary compensation for her review. Jenelle did receive a free product to try out so she could evaluate and use it for her review. Her thoughts & opinions in this review are unbiased & honest and your opinions may differ. Two Classy Chics is not responsible for delivery of any giveaway items won from this blog. We are not responsible for injury or mis-use of any products won from the Two Classy Chics Blog. Please read our Terms of Service & Disclaimer Policy before entering our giveaways. Thanks!