Being a woman can be tough. The long hours you put into being your awesome self can be exhausting. While being a wife, mother, boss lady, taxi driver, therapist, and everything in between is rewarding and you love it, sometimes you just need a break. We get it! There are days you feel like packing your bags, grabbing the girls, and hitting the road for an all girls' getaway. Well, why not? You deserve that break and so do your girlfriends!
If you are looking for the ultimate getaway location, look no further than Destin, Florida on the Emerald Coast of Florida. The article Why Women Choose Destin describes Destin as a haven for women craving fresh air, relaxation, and new travel experiences. But what makes Destin attractive to so many women? The answer is simple… gorgeous beaches, high-end shopping locations, luxury spas, and fabulous dining experiences.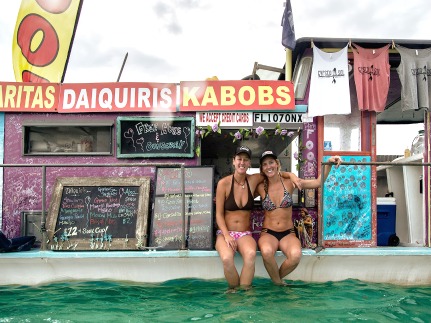 So what will your girls' getaway in Destin be like? Let's take a look!
First, the beach. There is no way you can visit Destin and not enjoy some beach time. Pure, emerald-hued water embodies the essence of tranquility as it kisses a shore of pristine, soft white sand. Take the time to loosen up while you soak up the sun, go for a swim, or read a book in the warm weather. Whatever you and the girls decide, it is sure to be the best way to start your trip.
Keep the perfect day going by indulging yourselves at one of the many quaint spas in Destin. With soothing massages, facials, and manicures that capture the beautiful, beach atmosphere, you will feel more relaxed than you have in ages. There is seriously no better way to spend a day with the ladies.
After treating yourself to some much-needed relaxation, make your way through the classic beach towns that dot the coast and explore the premier shopping spots that Destin has to offer. As you browse the charming boutiques and large shopping centers, you will renew your love for shopping, forgetting that at home it can be more of a chore. You and the girls will spend the entire time laughing as you try to convince each other that you can only buy "one more thing."
Now that each of you has expanded your wardrobe to include some chic, fashion-forward beach items, you are ready to take on the night and some fine dining. With the variety of food locales along the coast, you can choose from up-scale locations or restaurants with a casual beach setting. You and the girls may even find your new favorite restaurant right in Destin.
Ready for that girls' trip yet? Once you have all your leading ladies on board, book your vacation to Destin with Ocean Reef Resorts. Their team of reservation specialists will make sure you get the best vacation rental to meet your needs, as well as give you all the insider information on activities, events, attractions, and dining that will make your girls' getaway one for the books!