My mom is one of the best homemade bakers that I know. When I was around 13 years old, she brought me into the kitchen and taught me how to bake. Over the years I've used her recipes and mastered the art of making homemade cakes, cookies, pies, muffins and bread.
Every year from late October through the end of December I'll make several loaves of homemade pumpkin bread. Some of these loaves my family will eat and others I'll take to work for my co-workers to enjoy. Every time I make pumpkin bread, I use my mom's recipe. Thanks Mom!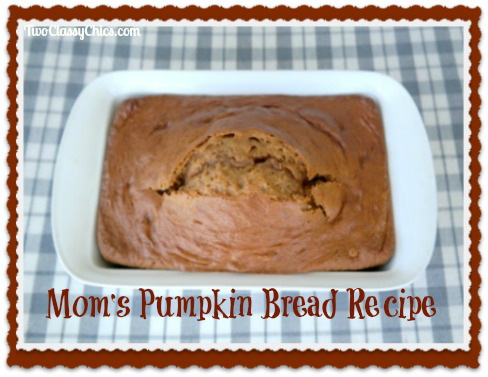 Mom's Homemade Pumpkin Bread Recipe (in printable form below)

Mom's Pumpkin Bread Recipe
This recipe makes a very flavorful and moist pumpkin bread. You can use store-bought pumpkin puree or your own that's made from scratch.
Ingredients
2½ cups granulated sugar
1 cup vegetable cooking oil
4 medium eggs
3⅓ cups all-purpose flour
2 teaspoons baking soda
1½ teaspoons salt
⅔ cup water
15 ounces canned pumpkin puree
non-stick baking spray
Instructions
Preheat oven to 350 degrees. Lightly spray the bottom and sides of your loaf pan. Set aside.
In a large mixing bowl beat together the granulated sugar and vegetable oil with an electric mixer. Add in the medium eggs and beat again. Set aside.
In a large mixing bowl sift together the all-purpose flour, baking soda and salt, until all three are well-combined together.
Alternately add the flour mixture and water to the beaten sugar mixture. Beat after each addition until just combined. Beat in the pumpkin puree until all ingredients are combined.
Use a large spoon and spoon the batter into your prepared loaf pans. Place them in a preheated oven and bake for 22 to 30 minutes, depending on the size of the baking pans that you used. Remove from oven and let cool.
* This post contains affiliate links. If you make a purchase, we may or may not receive a small commission which helps to support this site. Thank you!