Once the weather turns cooler, I'm all about baking. I love to walk through my home and smell homemade cookies baking in my oven. When it comes to homemade baked goods…cookies are my absolute favorite and I tend to go for the classics.
About 30 years ago my mother gave me this easy-to-make sugar cookies recipe. Unlike other recipes, you don't have to waste any time rolling out the dough, using cookie cutters and all of those type's of things. These are "drop-style" cookies, which means you simply drop the dough onto your baking sheet, flatten it a little bit with the back of a spoon and bake.
Below the recipe you'll find an alternative way to make them too! You can find our Ghirardelli Chocolate Chip Cookies and our Pumpkin Chocolate Chip Cookies recipes right here on the blog too!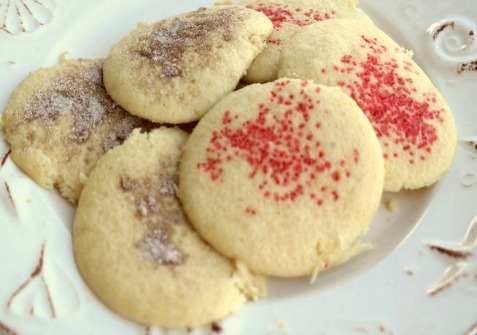 Mom's Drop Sugar Cookies Recipe
1 cup butter, softened (not margarine)
3/4 cup granulated sugar
1 large egg
2 cups all-purpose flour
1 tsp. baking powder
1/4 tsp. salt
1/4 tsp. ground cinnamon
Colored Sugars or Sprinkles
Beat the softened butter and granulated sugar together in a large bowl with an electric mixer at medium speed until creamy and smooth. Add in the large egg, beat until fluffy. Stir in the all-purpose flour, baking powder, salt and ground cinnamon until well blended. Form dough into a ball and wrap in plastic wrap or place into a large zipper-close gallon-sized bag. Refrigerate for 2 to 3 hours.
Preheat oven to 350 degrees F.
Separate the dough into manageable portions. Drop dough onto lightly greased baking sheets using a tablespoon. Use the spoon to flatten the cookie dough. Sprinkle the top of each cookie with colored sugar or sprinkles.
Bake for 7-8 minutes or until they are lightly browned. Let cookies stand on cookie sheet for 1-2 minutes before moving them to a wire rack to cool. Store in an airtight container.
Note: My husband likes his with a mixture of brown sugar & cinnamon on his. If you're not a big fan of the colored sugars & sprinkles, you can certainly dust the tops of your cookies with a mixture of brown sugar & cinnamon.
* This post contains affiliate links. If you make a purchase, we may or may not receive a small commission which helps to support this site. Thank you!