When it comes to Thanksgiving desserts, you'll always find a classic pumpkin pie on our holiday table. Frankly, I can't remember a Thanksgiving dinner where pumpkin pie wasn't served!
About 10 years ago my mom shared with me her recipe and one of the things I like about it is that you ONLY need to dirty-up one large mixing bowl! That's right, ONE BOWL! It's one of the easiest pie recipes that you'll ever see!
Looking to make something different? Check out this Cherry-Peach Pie Recipe and Grandma's Double Crust Apple Pie Recipe. All are easy-to-make and delicious!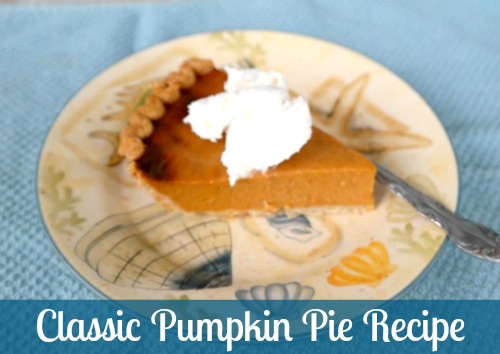 Mom's Classic Pumpkin Pie Recipe
1 1/2 cups pumpkin puree
1/2 cup milk (I use whole milk)
1/2 can evaporated milk
1/2 cup light brown sugar
1/2 cup granulated sugar
1/4 teaspoon salt
1/2 teaspoon ground nutmeg
1/2 teaspoon ground cinnamon
2 large eggs, well beaten
1 teaspoon butter, softened
2 unbaked pie shells
Preheat oven to 350 degrees F.
In a large mixing bowl combine together the dry ingredients first and then add-in the moist ingredients one at a time, mixing after each addition with an electric mixer. Mix until the batter is creamy and smooth. Pour batter into 2 unbaked pie shells.
Note: I place my pie shells onto a baking sheet and then place them into the oven. This way if there is any spillage during the baking process, it won't make a mess in my oven.
Place the the pies into a 350 degree F preheated oven. Bake for 25 to 30 minutes or until the center of each pie is done. Remove from the oven and let pies cool on a wire baking rack. Once cool, cover and refrigerate them until serving time.
* This post contains affiliate links. If you make a purchase, we may or may not receive a small commission which helps to support this site. Thank you!