Matcha, the major industry trend, is here to stay! With benefits including a sustained energy boost, loads of antioxidants, a "calm-alertness" thanks to an amino acid called L-Theanine, increased metabolism, and a caffeine hit without the jittery after-effect, Matcha will be your go-to ingredient this fall and holiday season. Today's guest-post recipe is courtesy of HUROM.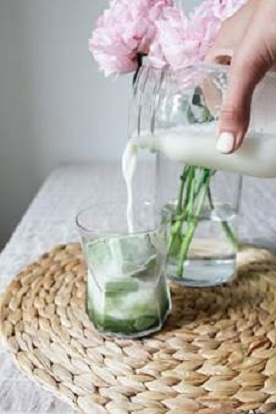 Matcha Tea Latte with Cashew Milk Recipe
1 cup Raw cashew nuts
1 teaspoon Matcha tea powder
Soak raw cashew nuts in a bowl of water overnight or for 6-8 hours. Put together the HUROM juicer's top set with a fine strainer. Close the juice cap, and close the pulp control lever. Add soaked cashew nuts and filtered water at 1:1 ratio to the juicer. Extract silky cashew milk. Whisk Matcha powder in a bowl of hot water (1/2 cup) to make Matcha paste. Add freshly made cashew milk to your Matcha paste. Serve cold or hot. Enjoy!
* This post contains affiliate links. If you make a purchase, we may or may not receive a small commission which helps to support this site. Thank you!