Amy Nelson Hannon's mission in life is to let the people around her know they're loved by feeding them. Through the process of preparing and sharing good food, she not only satisfies their hunger but makes them feel cared for, and she extends that hospitality to all of us by way of her newly released cookbook, Love Welcome Serve: Recipes that Gather and Give.
I was immediately drawn into the author's world right from the start. In the introduction (sweetly called "My Heart"), she describes the joy she finds in feeding people, and how she learned the art of "intentional kitchening" as a child in her grandmother's kitchen. The connections Amy Hannon makes between her food and her people are featured throughout the book, most often in the preface to each recipe in which she tells who created, inspired, or loves it, or when or where she makes or serves it. In this way, the reader comes to understand that every recipe is a love story, one to be shared.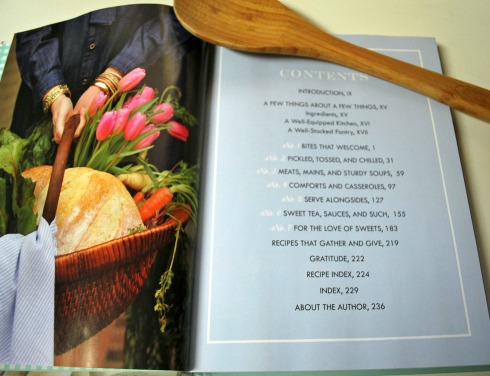 Her Arkansas roots are apparent in the Southern slant of many of the recipes, such as Bacon and Brown Sugar Collards, Fried Green Tomatoes with Zesty Cream Sauce, Mama Grace's Sawmill Gravy, and five different recipes that use grits. Many other recipes reflect a distinct Southwestern flair, including White Chicken Chili with Cilantro and Lime, Mama's Mexican Skillet Casserole, Cornbread Tamale Pie, and Baked Jalapeño Refried Beans.
Love Welcome Serve includes many comfort-food standards, such as Euna Mae's Macaroni and Cheese, Comfort Chicken Pot Pie, and Company Pound Cake. For less experienced cooks, basics such as Homemade Chicken Stock and Classic Flaky Pie Crust will prove very helpful.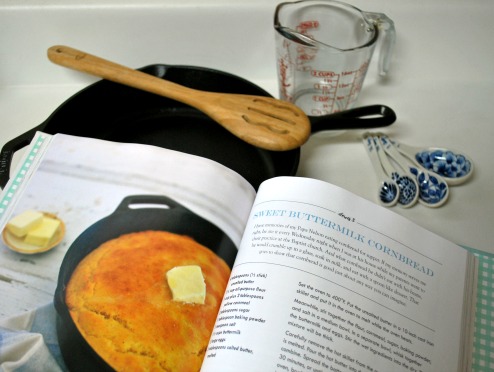 The photographs in the book are lovely, with pictures of the ingredients that go into the recipes as well as many pictures of the finished dishes. There are even some just-plain-pretty pictures, too, of things like silver spoons in a pitcher, wooden spoons in a crock, or tulips in a Mason jar against a background of vintage books, a bowl of fruit, and a well-used cutting board.
If you love the concept behind this book, you're in luck; items such as mugs and tea towels bearing the phrase Love Welcome Serve are available for purchase at Euna Mae's, Amy Hannon's kitchen boutique lovingly named after her grandmother. You might also enjoy her blog, EunaMaes.
Reading Love Welcome Serve has not only inspired me to get into my kitchen to make something delicious (the Sheet Pan Banana Cake is at the top of my list) but also to make an effort to share the products of my kitchen with the people in my life. As Amy Hannon says, "Food is the means to an end, and the 'end' is to impact the lives of people for the better."
* This post contains affiliate links. If you make a purchase, we may or may not receive a small commission which helps to support this site. Thank you!
Giveaway: One lucky winner is going to win their own copy of Love Welcome Serve, thanks to the Hachette Book Group.
Giveaway Details: This giveaway is open to residents of the US ONLY age 18 and over. Please read our Terms of Service & Disclaimer Policy before entering. This giveaway will close on December 11th, 2017 at 11:59 pm EST time. No purchase necessary to enter or win.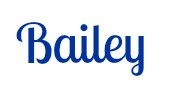 Disclaimer: A. Bailey received a complimentary product for review purposes & feature on The Classy Chics blog. No monetary compensation was received. A. Bailey's thoughts, opinions and words are 100% her own. Your thoughts may differ. Please read the blog's terms of service policy before entering any giveaways. The Classy Chics are NOT responsible for prize fulfillment or shipping of any items won from this blog.