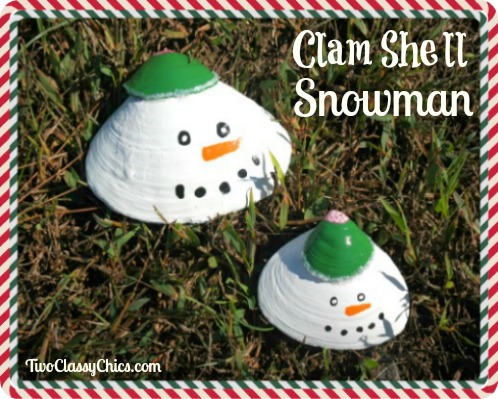 The Christmas holiday season is just around the corner and we've been busy working on some new Kid's Crafts Projects. As you all know, my family loves the beach and we go down to the beach several times every year. When we're down at the beach…we always take several beach walks to collect seashells that we find laying around in the sand. We bring them home and wash them up for our various craft projects.
My granddaughter is 8 year's old and was able to easily make this project. Younger children will need adult help. You can use smaller clam shells and drill a small hole into one of them and use them as Christmas Tree ornaments. Don't have shells? Find some odd-shaped river rocks!
Kid's Crafts Project – Painted Snowman Clam Shells
Large Clam Shells (clean and dry)
Small Clam Shells (clean and dry)
Acrylic Paint (white, orange, black and green)
Glitter Glue (clear and red)
Paint Brush, Water Dish, Paint Palette
Round Wooden Toothpick
Paper Towels and Newspaper
Heavy-Duty Glue/Adhesive (we used E6000)
Clear Acrylic Spray Sealer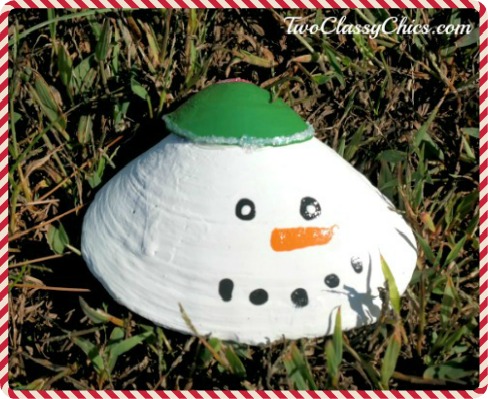 Cover your work surface with newspaper before beginning this project.
Paint the outside of the claim shell in solid white. Let dry. Paint a second coat over-the-top and let dry. It typically takes 30-60 minutes for each coat of acrylic paint to dry. Add two coats of green acrylic paint to the front of the small clam shell and let dry.
Have an adult use a strong glue or adhesive to glue the smaller clam shell onto the top of the larger one to form a hat. We used E6000 which takes several hours to dry and set-up. With that said, it's a permanent adhesive and great for outdoor use. If using it, wear glues and don't let it come into contact with your skin.
Using the back-end of your paint brush, dot on 2 round black circles for the eyes and 5 smaller round black circles for the mouth. Using the orange acrylic paint, add a carrot-shaped nose. Use white paint to add a medium-sized round circle to the top of the smaller shell to form the painted-on pom-pom. If the 2 black eyes are done drying, use the tip of a round toothpick to dot the center of each eye with white acrylic paint.
Use the clear glitter glue to add a glittery rim around the bottom of the snowman's hat. Use the red glitter glue to add sparkle to the painted-on pom-pom. Let dry. Using glitter glue can take 2-3 hours to thoroughly dry.
Take your dry shells outside and lay them on clean newspaper. Lightly spray the top of each shell with a coat of clear acrylic sealer. Wait 2 hours and then add a second coat. Let dry thoroughly, I recommend letting them dry overnight. Using the clear acrylic sealer adds a glossy topcoat and will protect the paint from scratches and fading. Plus, you can now display your pretty shells outside!
* This post contains affiliate links. If you make a purchase, we may or may not receive a small commission which helps to support this site. Thank you!