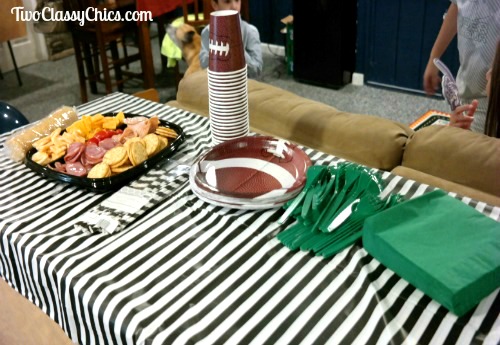 Last week we got the family together for our annual Thanksgiving Holiday Meal and Football Party. At our annual holiday parties we can expect at least 30 adults and 15 children to attend. To make things easier, our guests help out by bringing along their favorite dish and a beverage.
* Complimentary Product Received for Review and Feature.
This year at our annual holiday gathering we had a 22 lb. turkey, a 6 lb. ham, mashed potatoes, candied sweet potatoes, ham gravy, turkey gravy, green bean casserole, Spanish rice, dinner rolls, stuffing, pumpkin pies, pumpkin cream cheese roll, creamed corn pudding, roasted broccoli and more! We had a ton of food to enjoy!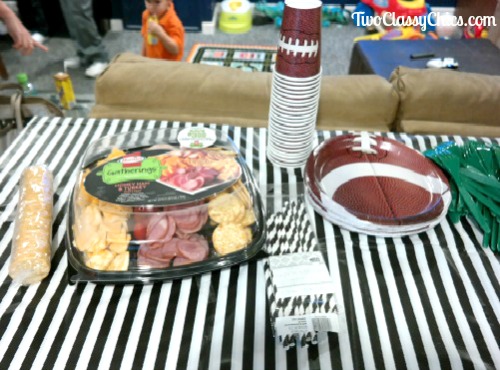 Our dinner is typically served around 5:30 PM. However, everyone starts gathering at my daughter's house around noon. The kids enjoy getting together and playing, while the adults enjoy getting together to watch some holiday football!
This year I brought along the HORMEL GATHERINGS® Party Tray that I received for this review, along with the complimentary "football themed" party supplies, extra beverages, a bag of ice and a few other things. With all of the other cooking that we had to do, I wanted to make things easier and I knew the HORMEL GATHERINGS® Party Tray was the perfect thing to serve for pre-dinner appetizers.
If you've never tried one of the HORMEL GATHERINGS® Party Trays, they're available in 3 different varieties. You can find them at your local Walmart and at other retail locations across the nation. We picked up the HORMEL GATHERINGS® Party Tray in the Honey Ham and Turkey. Absolutely perfect to along with our Thanksgiving festivities!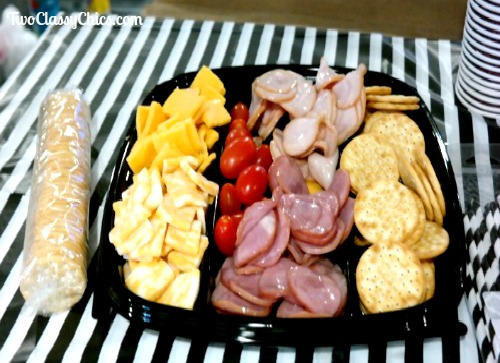 Our party tray included everything we need for the perfect grab-n-go appetizers. It included: HORMEL® Honey Ham, HORMEL® Smoked Turkey, Sargento® Cheddar Cheese, Sargento® Colby Jack Cheese and Round Crackers. Everything comes pre-sliced, individually packaged and comes packaged within the serving/storage tray. You literally need nothing else! Just pop open the lid, unseal the individual packages, arrange the items on the tray and you're done. If you're looking to add some color, toss on some fresh cherry tomatoes like we did.
As the co-party host, I really loved that within 5 minutes I had the appetizer tray out onto the table and our guests were able to come up and enjoy it. It was a huge time-saver and I had no dirty dishes to contend with. The best thing about serving it was that it tasted great! All of the meats, cheeses and crackers were fresh! The meats were moist and flavorful and the cheeses were delicious! Everything was perfectly paired together.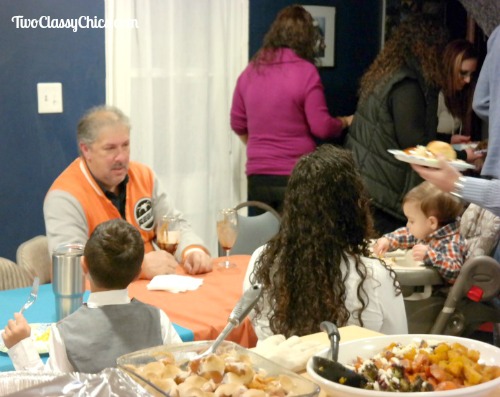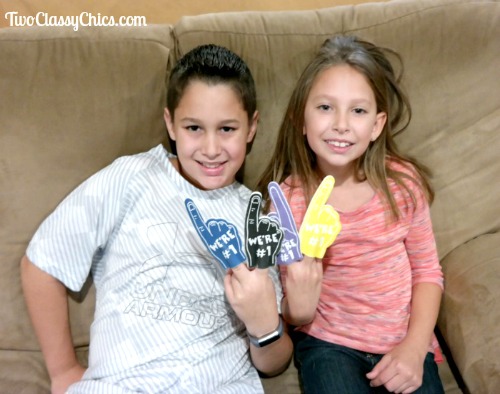 By the time our holiday dinner rolled around…the appetizer tray was completely gone! With that said, if there had been leftovers, I could of put the plastic lid back onto the tray and slid it into the refrigerator with ease. The way that it's packaged, it won't take up a lot of room!
This was the first time I had ever served one of the HORMEL GATHERINGS Party Tray's at one of our family gatherings and I can honestly tell you…I'll be picking up more of them for Christmas, New Year's Eve and our annual Superbowl Football parties! How would you like to try one at your next family event? Read on!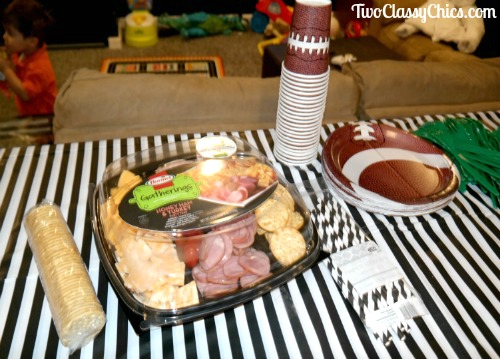 Giveaway: One lucky winner is going to win a FREE coupon (up to $15.00 value) to use towards the purchase of the HORMEL GATHERINGS Party Tray! Remember, you can find them at your local Walmart and at other retailer's across the nation! The coupon will be sent to the winner after the giveaway concludes and will cover the cost of one party tray. Good Luck!
Note: You're ONLY eligible to win one time, no matter which blog you enter and won the coupon voucher from. In other words, one winner can't rake in 3 voucher coupons from 3 different blogs. That's NOT fair to other's who are entering.
Giveaway Details: This giveaway is open to residents of the US ONLY age 18 and over. Please read our Terms of Service & Disclaimer Policy before entering. This giveaway will close on December 17th, 2017 at 11:59 pm EST time. No purchase necessary to enter or win.

Disclaimer: Shelly received a complimentary product as featured in this blog post. No monetary compensation was received. Shelly's thoughts and words are 100% her own unbiased opinion on the company & products being featured today. The Two Classy Chics are not responsible for prize shipment or fulfillment. This post may contain affiliate links. If you purchase an item through an affiliate link, we may receive a small commission which helps to support this site.