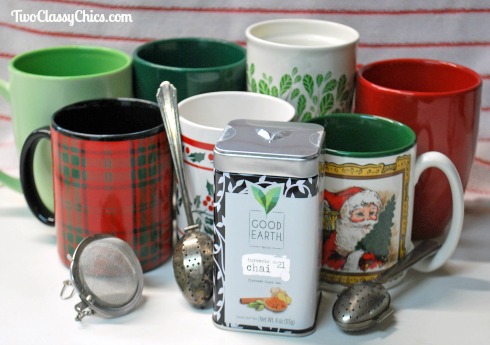 I know many readers of The Classy Chics are tea drinkers, and I'm here to tell you about a new blend from The Good Earth Tea Co., Turmeric Chai Tea. This luxury loose tea blend is a black tea flavored with rich, warm spices, and it's delicious.
* Complimentary Product Received for Review.
When I first opened the pretty can, I was surprised at the tea's golden glow, until I remembered that turmeric is known for its intense orange color. I was also struck by the whole tea leaves and spices—no dust here! The label has a very helpful picture of the tea, pointing out each ingredient so you know exactly what everything is. My Turmeric Chai contains black tea leaves, whole cardamom pods, whole white and black peppercorns, pieces of ginger and cinnamon, and turmeric. The tea itself is beautiful, and it smells heavenly.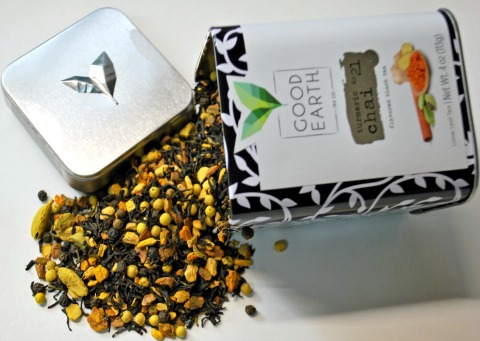 Following the brewing instructions on the package, I put a half-teaspoon of tea in an infuser and added 8 ounces of just-under-boiling water, then let it steep for four minutes. The brewed tea was golden, fragrant, and spicy. I stirred in a bit of honey and sat back to relax and enjoy my tea. Mmmmm. I will say, though, that I generally prefer strong tea, so for subsequent cups, I used a higher tea-to-water ratio.
Good Earth Tea makes a wide variety of tea blends, from black and green teas to herbal, oolong, and white teas. All of their teas are Kosher certified by the Orthodox Union, many are USDA Organic, and none contain any artificial colors or flavors. Some are available in pyramid teabags rather than as loose tea.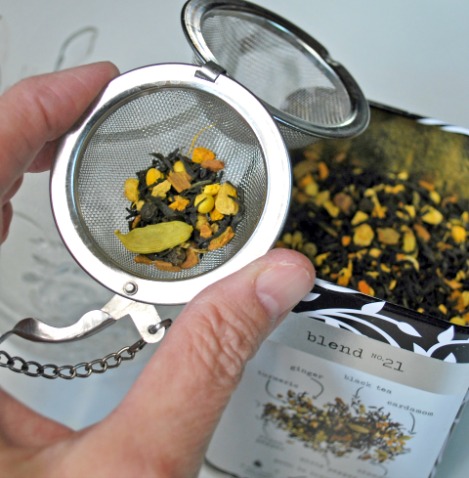 The tin my Turmeric Chai tea came in is beautiful, and I'm sure I'll find a way to use and display it when the tea is gone. The label is removable, so the empty tin may be used for anything without advertising its origin. The lid seals nicely but is still easy to remove; I love that it's embossed with an image of tea leaves, a subtle reminder of what the tin once contained.
Although there's not a store locator on the Good Earth Tea website yet, you can purchase teas directly from them at their online store. The Turmeric Chai tea I received to review comes in a 4 ounce can and sells for $12.99. If you love their tea, you can arrange a subscription so you never run out of your favorite blend.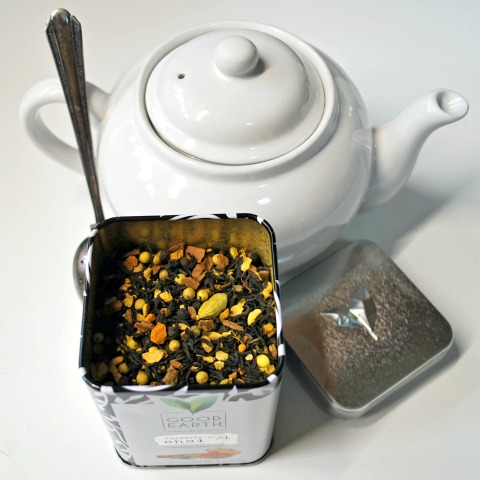 To keep up to date with the latest news and promotions from Good Earth Tea, visit them on Facebook.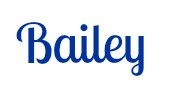 Disclaimer: A. Bailey received complimentary products for review purposes & feature on The Classy Chics blog. No monetary compensation was received. A. Bailey's thoughts, opinions and words are 100% her own. Your thoughts may differ.