For the past 30+ years I've been making homemade fudge. To date, I would guess that I've made over 20 different flavors. When I first started out making it…it was a mess. Sometimes the fudge would get too firm and at other times, it was a gooey mess. Over the years, I found some easy-to-make recipes and perfected my fudge-making skills along the way.
Since we're finally into the Fall season and the holidays are just around the corner, I thought it would be fun to share some recipes here on the blog that are perfect for school and church bake sales, church bazaars and of course, recipes that are perfect for you to make & give as holiday gifts this year.
When I make a simple chocolate & mini marshmallow fudge, this is the recipe that I like to use.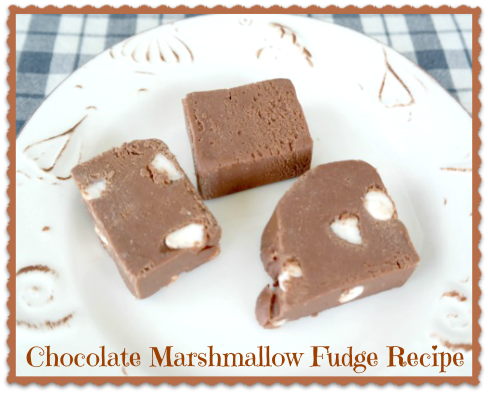 Easy Chocolate Marshmallow Fudge Recipe
14 oz. can Sweetened Condensed Milk
12 oz. bag Semi-Sweet Chocolate Chips
1 tsp. Vanilla Extract
1 cup Miniature Marshmallows
Non-Stick Baking Spray or Butter
Spray an 8″ by 8″ square baking dish lightly with the non-stick baking spray or lightly grease with butter. Set aside.
In a medium-sized saucepan combine together the Sweetened Condensed Milk with the bag of Semi-Sweet Chocolate Chips over medium heat, stirring almost constantly. You want to complete melt them until the mixture is smooth. Stir in the vanilla extract.
Remove the saucepan from heat. Use a large spoon to gently stir in the Miniature Marshmallows. You want to do this quickly and ONLY stir the mixture enough to coat the mini marshmallows. You don't want to over-stir and melt them!
Pour the fudge mixture into your prepared baking dish. Let it sit at room temperature for 20 minutes. Cover the dish and refrigerate for 2 to 3 hours to firm them up. Once firm, remove from the refrigerator and cut into squares. Store fudge squares in an airtight container for storage.
Gift Giving Ideas: You can place the fudge squares into a metal gift tin that's lined with waxed paper or parchment paper. Make sure you place a sheet over-the-top of them before placing the lid on. You want to keep the air out!
Purchase food-safe holiday zipper-closure bags at your local Dollar Store. Cut waxed paper or parchment 2 1/2 times the size of each square. Wrap it around each square and then place the wrapped squares into the food storage bag. This will keep the squares from sticking together.
Additional Tips: I recommend that you ONLY make this recipe (at most) 3 days ahead of time. Once you have your foodie gift prepared, store the bags or containers in the refrigerator until ready-to-give.
Some people have allergies, I like to write the ingredients that I used on a self-adhesive label and stick it onto the food storage bag or the bottom of the container. This way if they have food allergies, they can clearly see the ingredients that I used.
* This post contains affiliate links. If you make a purchase, we may or may not receive a small commission which helps to support this site. Thank you!