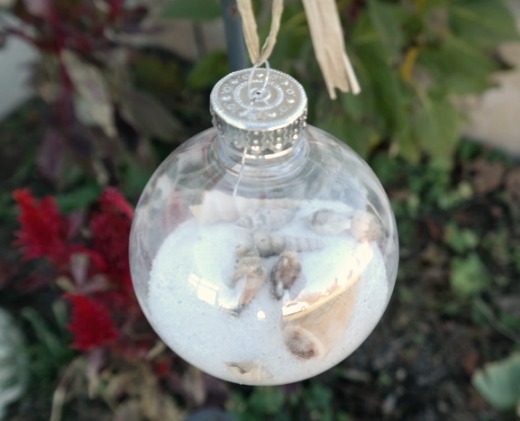 Looking for a quick and easy holiday craft project to do with the kids? Do you enjoy beach & coastal theme'd Christmas tree ornaments? If so, I've got a super-easy craft project to share with you today.
Before we get started, you can use small seashells and beach sand that you collected from your summer vacation (great way to use up those tiny seashells) or you can buy your supplies at your local craft store. Matter of fact, the supplies you see pictured below were purchased at one of my local dollar stores, so if you're looking to save money and don't have a beach nearby, check out the dollar store!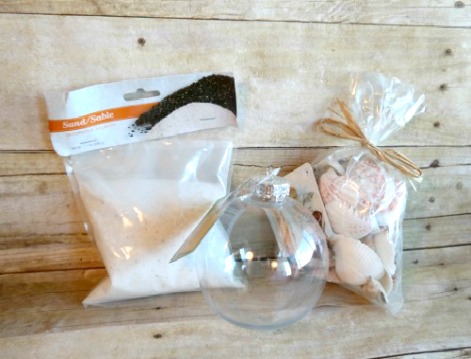 Craft Project: Seashell Beach Theme'd Christmas Ornaments
Plastic Christmas Ornament Balls
Tiny & Small Seashells
Beach Sand or Craft Sand
Raffia, Satin Ribbon or Twine
All-Purpose Craft Glue
Scissors
Funnel
Remove the top from your ornament. You should be able to easily pop off that cap by squeezing together the metal prongs.
Use a funnel and insert beach sand down into your ornament ball, filling it 1/4 to 1/3 of the way full. You don't want to overfill them, as it will weigh down the plastic ball and make them too heavy to hang onto your Christmas tree. If you plan on hanging them outside, then of course, weight them down with additional beach sand.
Next, you want to carefully insert tiny to small sized seashells down into the ornament via the opening in the top. The more slender the seashell shape, the better. We found that round fat ones didn't fit through…so look for slender and oval shaped shells. We also found some tiny starfish and sand dollars that we inserted into our's.
Once you have the desired amount of seashells into your ornament, place the cap back onto the top. We used a little bit of craft glue around the opening, because the weight of the ornament can easily pop off your cap once you hang it up. Set aside to dry for 6-8 hours.
Using scissors, cut a piece of raffia, satin ribbon or twine that measures 6″ in length. Thread it through the hanger hole at the top and tie into a bow or knot the two ends together. You're done!
* This post contains affiliate links. If you make a purchase, we may or may not receive a small commission which helps to support this site. Thank you!