I love shopping at those "dollar-types" of stores for affordable crafting supplies and on a recent shopping trip to the Dollar Tree, I found some goodies to make these super quick and easy Snowman Candy Jars! Everything I used to make them (except for the glue) was purchased at the Dollar Tree for $1.00 each.
My 8 year old granddaughter had a lot of fun making up several of these snowman candy jars to give to her school teachers & Girl Scout leader as gifts! Don't like peppermint candy? Fill them up with wrapped chocolates!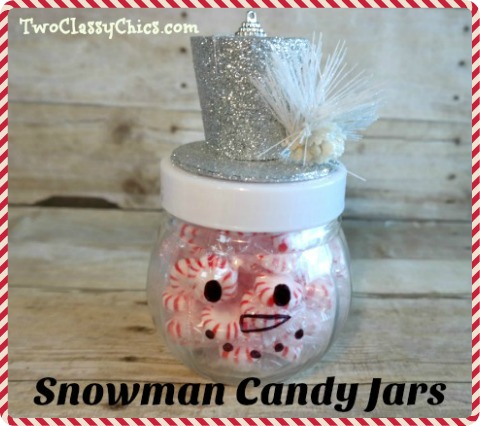 Craft Project: Easy Snowman Candy Jars
1 round glass jar with lid
1 silver glitter top hat Christmas tree ornament
1 bag of peppermint hard candies
1 black Sharpie marker
all-purpose craft glue
Note: If you want an orange carrot-shaped nose, you'll need an orange Sharpie marker too.
Wash and dry out your glass candy jar; set aside. We used scissors and cut off the hanging cord from the top hat ornament. Place a generous amount of glue onto the bottom of the top hat ornament and glue it on top of the candy jar's lid. Set aside to dry.
Using a black Sharpie marker, let the kids draw on the snowman's eyes, nose and mouth. They don't have to be perfect, let the kid's do their own artwork. Sharpie's dry pretty quickly, so we set aside the jar for about 10 minutes and worked on our next one.
Once the marker and the glue are dry…fill up the jars with candy. You only want to use WRAPPED candies if you're giving them away as gifts or using them as holiday party table favors. We filled some of them with peppermint hard candies, some with wrapped Hershey kisses, Hershey miniatures, etc. During the holiday season you can find candies wrapped in festive holiday colors which looks really nice.
Gift Presentation: If giving them as gifts, they fit nicely into small-sized handled gift bags, along with 1-2 half-sheets of tissue paper. Add a bow and to/from tag and you're done!
* This post contains affiliate links. If you make a purchase, we may or may not receive a small commission which helps to support this site. Thank you!