We love to travel and are big fans of outdoor wall murals and street art. Every time we arrive at a new destination, we're always on the lookout for it. Especially when we travel to coastal and beach areas.
Over the past few years I've shared many posts & photographs on this blog of beautiful outdoor wall murals & street art that we've spotted during our many travels. Today…I've got two more for you to see!
On a recent trip down to Stone Harbor in New Jersey we spotted the two that we're featuring today.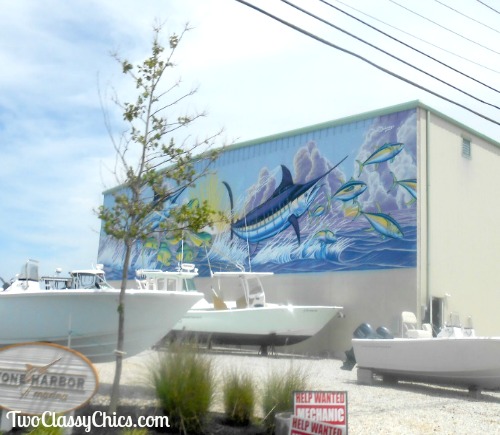 The first one is a wall mural by artist David Dunleavy. He's one of my absolute favorite artists! He does a lot of these sea life wall murals and I've photographed at least ten in the past three years. This particular one was painted on the side of a large building just as you enter Stone Harbor. Sorry for the tree & boat obstruction, but I think you get the drift of what it depicts. It's a painting of an Atlantic Blue Marlin that's feeding on smaller fish off the coast of New Jersey.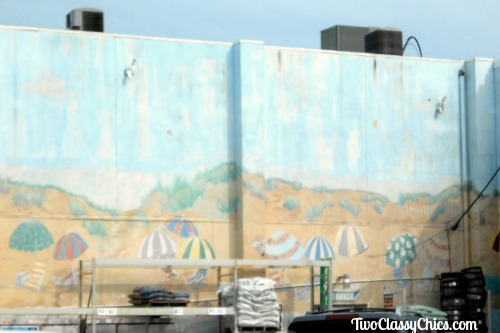 The second one was really hard to photograph! It's painted on the back of the Ace Hardware Store in Stone Harbor, New Jersey. I had never seen this outdoor wall mural before and totally found it by accident. The store has equipment and supplies stacked underneath it, so it was hard for me to photograph. Plus, it's pretty faded, so I'm assuming it's several years old and hasn't been updated over the years. Usually these murals are signed by the artist and/or company who painted them…but due to the supplies being stacked up along the bottom, I couldn't locate that information.
As you can probably see, it depicts a large beach scene of beach goer's, beach chairs, colorful umbrellas, sand dunes, etc. Salt water and sea air can really fade these type's of murals quickly. I bet this one was a real beauty right after it was painted.
Anyway, if you're heading to Stone Harbor in New Jersey, be on the lookout for these two outdoor wall murals! I think they're fabulous!