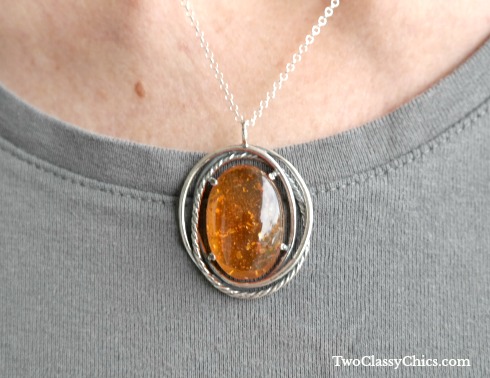 Like most women, I love jewelry and I've collected a lot of it over the years. In my collection I've got estate pieces, one-of-a-kind artisan pieces, mass retail market pieces and everything in between. With that said, I'm extremely fond of artisan-crafted pieces that are unique in their style.
* Complimentary Product Received for Review.
One of my favorite go-to places to shop for jewelry happens to be Uno Alla Volta. What makes this company so special is that they curate artisans from around the globe to create handcrafted products that are ONLY available through them. Many of the artisans are family-owned workshops that have perfected their craft over the generations. The brand is passionate about reaching consumers on a very personal level with products made from the hearts and hands of these very artisans.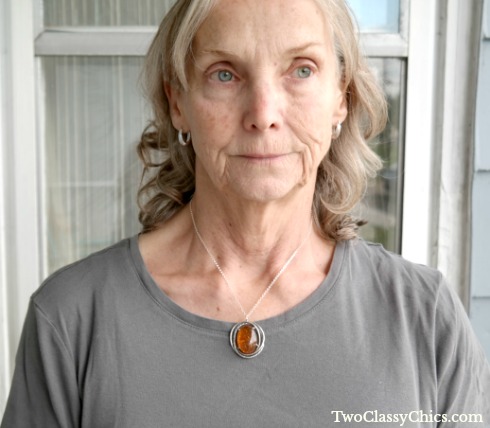 For the review I received the Avi's Amber And Sterling Silver Oval Pendant Necklace to check out for all of you. The pendant is a genuine amber cabochon with hand-forged sterling silver framing it. If I had to describe the framing, I would describe it as having 2 polished rings and one twisted ring going around it. I love the simplicity of it which allows the amber cabochon to be the main focal point.
The pendant hangs from a 17″ long sterling silver chain with an easy-to-use lobster claw clasp. If you want to remove the pendant and hang it from a longer neck chain, you can certainly do that. I think it would look equally as beautiful hanging off a black leather cord for a more casual look and then put it back onto the sterling silver chain for a more dressier look. (note, you ONLY get the sterling silver chain with the pendant, I was just giving you a few ideas on how you can wear it).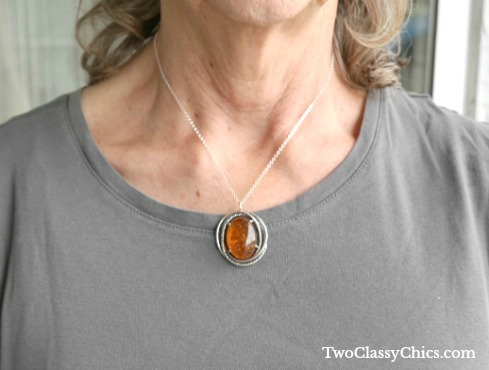 This gorgeous necklace is handcrafted by the artist Avi. Here's some information about this very talented artist:
For more than 30 years, our Israeli jewelry designer has been creating eye-catching works of wearable art in precious metals. A supportive mentor of new artisans, he is also an active participant in human rights causes in his home city.
I love my new amber necklace and have been wearing it quite often. Every time I put it on, I get compliments. My mother was over visiting a few days ago (she's shown in the photos) and she borrowed the necklace from me. Yes, she loves it too!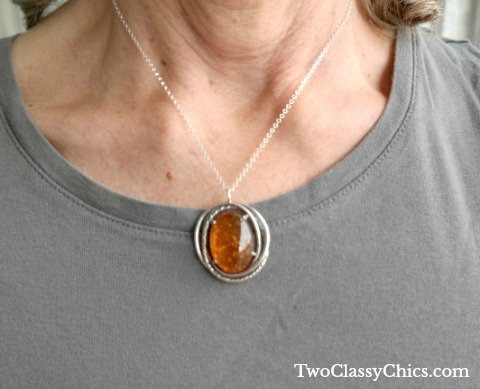 Head on over to Uno Alla Volta to check out all of their beautiful, handcrafted items! Now that the holidays are just around the corner, pick up a few items for yourself and a few to give as holiday gifts. You can connect with the company on Facebook too.

Disclaimer: Shelly received complimentary products to feature in this blog post. Shelly did not receive any monetary compensation. Shelly's thoughts, opinions and words are 100% her own unbiased opinion. Your thoughts may differ.