One of the things that immediately caught my eye with this recipe is the "mini" size which I think is great for those of us watching our weight and monitoring portion control. Meatloaf is one of those classic, comfort foods that millions of people enjoy.
Today's guest-post recipe is courtesy of The Cocoa Exchange. You can visit their website to learn more about them and to get additional recipes.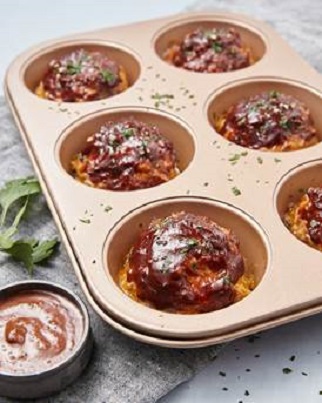 Baked Mini Meatloaves Recipe
2 eggs
1 1/2 cup milk
2 cups Cheddar cheese, shredded
1 cup quick oats
2 tsp. POD & BEAN™ Burger Seasoning
2 lb. ground beef or meatloaf mix
1/2 cup onion, finely diced
1/2 cup POD & BEAN™ Steak Sauce
1/2 cup ketchup
Preheat oven to 350° F.
In a large bowl, combine the egg, milk, cheese, oats and POD & BEAN™ Burger Seasoning. Add the ground beef and onions and mix well.
Evenly portion the meatloaf mixture into a lightly greased cupcake tin or small loaf pan.
In a separate small bowl, combine the POD & BEAN™ Steak Sauce and ketchup. Stir thoroughly and spread over each meatloaf.
Bake, uncovered, at 350° F until internal temperature reaches 160° F. Once done, remove from the oven and serve with your favorite side dishes.
* This post contains affiliate links. If you make a purchase, we may or may not receive a small commission which helps to support this site. Thank you!