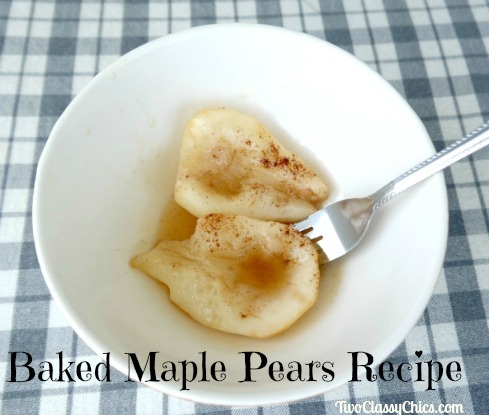 Back in September one of my mom's neighbors invited us over for coffee and tea. While we were there…she was telling us about her one pear tree out in the backyard that was loaded with pears this season. She told us that they would be ripe within the next 2 weeks and invited us back over to pick them! Well, we never turn down free fresh fruit and veggies, so mom and I returned and picked 2 large baskets full of pears!
We decided to use some of our fresh pears to whip up a batch of what we call Baked Maple Pears in the oven. You only need a handful of ingredients to make them and they're delicious!
Baked Maple Pears Recipe
4-6 ripe pears
1/4 cup brown sugar
3-4 tbsp. butter, melted
2 tbsp. maple syrup
additional butter
ground cinnamon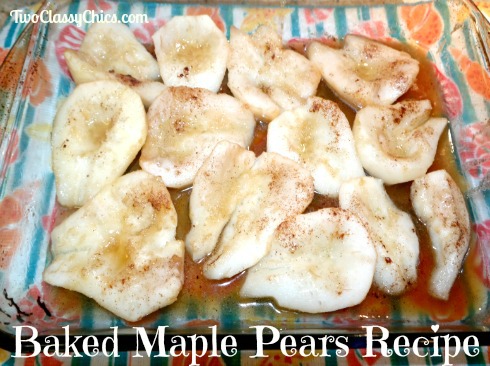 Preheat oven to 350 degrees F.
Use the additional butter amount to butter-up your baking dish. We used a glass 9″ by 13″ baking dish.
Wash pears. Remove stems and peel off the skins. Slice pear in half, remove seeds. Place pear halves in baking dish with the inner-sides facing up.
In a medium-sized mixing bowl combine together the brown sugar, melted butter and maple syrup. Spoon mixture into the "cavity" of each pear half. Sprinkle a tad of ground cinnamon on top of each one.
Place baking dish into the oven and bake for 7-10 minutes or until you can insert a fork easily into the pear. You want them soft, but not mushy. Remove from oven and let stand for 3-4 minutes before serving.
Note: You can serve them warm or place them in a dish and refrigerate. You can then serve them cold with whipped topping, vanilla yogurt, vanilla ice cream or even cold milk poured over-the-top. Delicious!
* This post contains affiliate links. If you make a purchase, we may or may not receive a small commission which helps to support this site. Thank you!