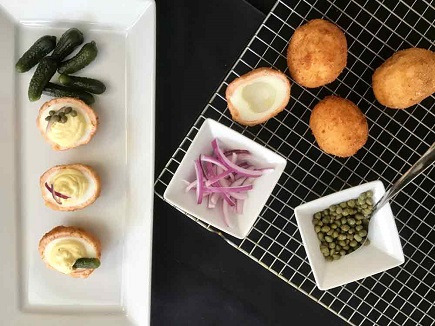 How many of you were aware that there is a National Deviled Egg Day? Well, there is and it's on November 2nd. Just in time for the big day we've got a guest post recipe for all of you who enjoy eating Deviled Eggs! The recipe is courtesy of The Hotel Saugatuck in Saugatuck, Michigan.
Smoked Salmon Scotch Deviled Eggs Recipe
"Scotch"
6 Eggs, Hardboiled & peeled
2 eggs, raw
10 oz Smoked Salmon
10 oz Bread crumbs
Oil for frying
"Devil"
4 T Sour Cream
4 oz Goat Cheese
Salt to taste
Pepper to taste
"Garnish"
1/4 Red onion, sliced thin
Cornichons (can substitute sweet gherkins)
Capers
To Scotch:
Heat cooking oil to 350 degrees in a heavy bottom pot or electric fryer. Add smoked salmon to food processor. Chop until smooth. Remove salmon from food processor and place between 2 layers of plastic wrap. Press (or use a rolling pin) salmon between wrap layers until a thin sheet of salmon is formed.  Portion salmon into 6 equal sections. Using your hands, wrap 1 section around 1 hardboiled egg, making sure egg is fully covered Repeat with the other 5 eggs.
Whisk raw eggs in a bowl. Pour bread crumbs in a separate bowl. Dredge salmon covered eggs in whisked egg mixture and coat in bread crumbs. Lower eggs into fryer. Fry for approximately 1 minute or until golden brown. Remove from fryer and let cool.
To Devil:
Once cooled, slice eggs lengthwise and remove yolks. Blend yolks, sour cream and goat cheese until smooth. Add salt and pepper to taste. Using a pastry bag (or Ziploc bag), pipe yolk mixture into eggs.
To Garnish:
Top eggs with a combination of cornichons, red onion and capers.