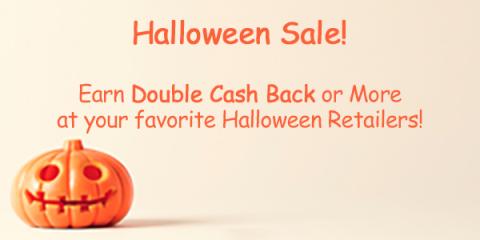 Now that Halloween is almost here, Swagbucks has increased cash back at a big group of their Halloween-related stores, so you can earn cash back while getting costumes, decorations, and more for the end of the month. Just click here to see the deals, and sign up for Swagbucks (if you haven't already) to start earning cash back in the form of SB points, which you can exchange for gift cards or PayPal cash.
* We're Swagbucks Affiliates. See Disclosure Below.
The sale is going through October 31st, 2017 and if you sign up through me, you'll get a 1000 SB rebate ($10) after your first shopping purchase through Swagbucks!
Haven't tried Swagbucks yet? They're a site where you earn points (called SB) for doing things like shopping, watching videos, taking surveys, and discovering deals and services you might like to try. You then take those points and turn them into free gift cards to places like Amazon, Starbucks, Walmart, Target, or PayPal cash.
I earn SB's when I watch videos, complete survey's, do internet searches, by entering Swagcodes and all sorts of other things. You can find some of my previous posts on how you can earn money and gift cards by using Swagbucks while doing your online activities right here on the blog. New to Swagbucks? You'll want to start HERE with that particular blog post.
Disclaimer: We are Swagbucks Affiliates. We may or may not earn a small commission if you join under our affiliate links.