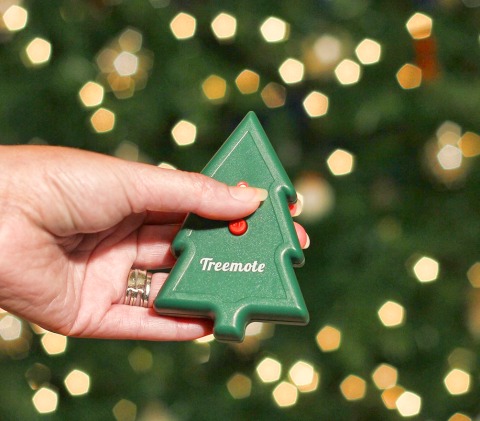 You set up your Christmas tree, arranging the ornaments and lights to perfectly display them. Then you have to crawl under and around the tree a couple of times a day to plug and unplug the lights, risking life, limb, and your carefully placed decorations in the process. Finally, there's a simple solution to this common problem—the Treemote, a dedicated remote control for turning Christmas tree lights on and off from up to 80 feet away!
* Complimentary Product Received for Review.
The Treemote is a two-piece wireless remote control system for indoor use. The remote transmitter is cute, shaped like a pine tree, with red "on" and "off" buttons. The receiver is a sturdy grounded plug that goes into a wall outlet, with an outlet into which you plug the item you want to turn on and off remotely. Both pieces have a red indicator light; the light in the remote activates when one of the buttons is pressed, and the light in the receiver glows when it's "on" and in use.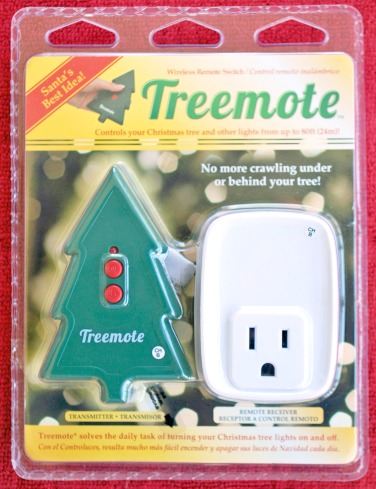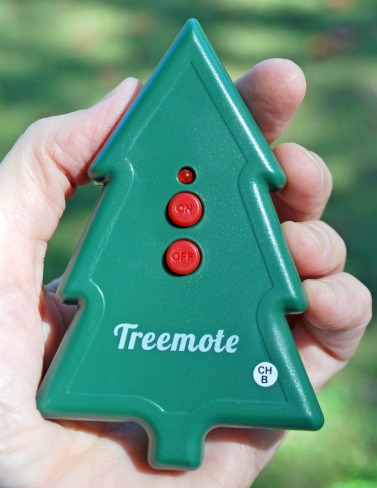 Although the original intent of the Treemote was to easily and safely turn Christmas tree lights on and off, the Treemote system can be used any time of year for pretty much anything you have trouble accessing. I haven't even begun thinking about Christmas decorations yet this year, but I've already put the Treemote to work, using it to turn on a bedside lamp from across the room! I plugged the Treemote receiver into an outlet near the nightstand and plugged the lamp into the receiver. I put the Treemote transmitter on a dresser that's only a step inside the room, and with the simple press of a button, I can turn on the bedside lamp from the doorway. No more stumbling in the dark while crossing the bedroom to get to the lamp!
The hardest part of setting up the Treemote system is getting it out of its plastic display package! Seriously, it couldn't be easier to use. The instruction sheet includes a helpful troubleshooting list just in case you do run into any issues with the Treemote, but most are simple fixes. For example, if the item you want to control has an on/off switch (like my bedroom lamp), the switch has to be left in the "on" position so it can be controlled via the Treemote.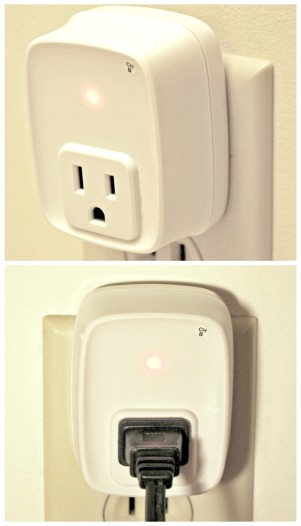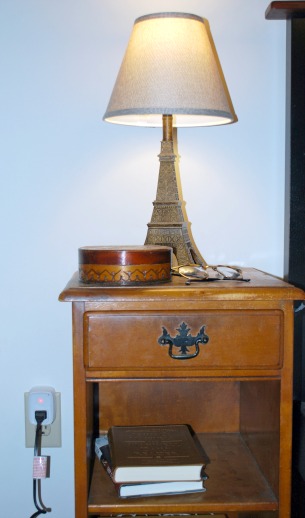 If you look closely at my Treemote and its receiver, you'll see a small sticker that says "CH B." Each Treemote system works on one of six wireless channels, so each system is marked with a letter, A through F. If you plan on using more than one Treemote system in your home, simply make sure each system operates on a different channel so they don't interfere with each other.
I can think of several people on my holiday gift list who could use a Treemote. If you're looking for stocking stuffers for gadget lovers on your list, a Treemote might be a good choice. Treemotes are available through the Treemote website, at Amazon, and at The Home Depot, with a suggested retail price of $19.99. You can find the company on Facebook too.
* This post contains affiliate links. If you make a purchase, we may or may not receive a small commission which helps to support this site. Thank you!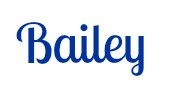 Disclaimer: A. Bailey received complimentary products for review purposes & feature on The Classy Chics blog. No monetary compensation was received. A. Bailey's thoughts, opinions and words are 100% her own. Your thoughts may differ.