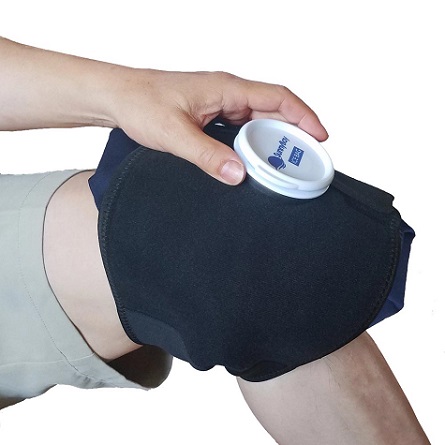 I keep my medicine cabinet well-stocked at all times. Matter of fact, every 2 months I go through my cabinet to toss out old items and replace them with new. Every home needs a well-stocked medicine cabinet that includes a: thermometer, OTC pain reliever, OTC fever reducer, OTC upset stomach medication, antacids, antihistamine, anti-itch cream, bandaids and of course, every home needs a large ice bag! Some of these items (give or take) will depend on the ages of the people who live in your home and their current medical conditions.
* Complimentary Product Received for Review.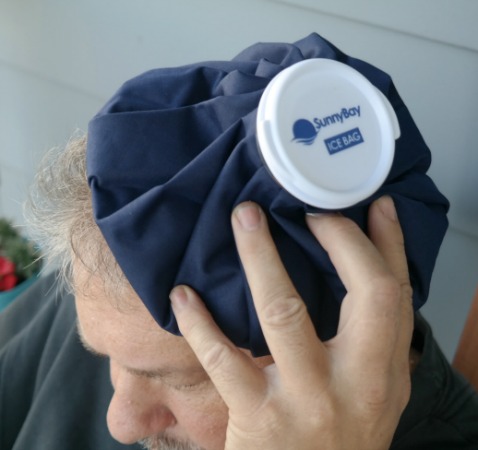 For this feature I received the Sunny Bay Large Ice Bag with adjustable strap to review for all of you. In the past I had a similar bag, but it was much smaller and harder to fill with ice. This one is PERFECT and I mean PERFECT! It can be used anywhere on the body, including the knee, elbow, legs and shoulder.
This Large Ice Bag is 100% reusable and comes with an adjustable strap for hands-free use. For cold therapy, you'll fill the bag with ice cubes and if you want heat therapy, you can fill it with hot tap water. Perfect to use at-home or while traveling. It's a no-mess treatment system with a leak-proof, secure-lock system.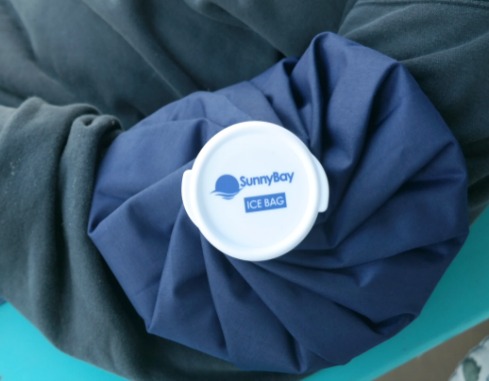 Unlike my old ice bag, this one is really easy-to-fill. Just unscrew the cap, fill it up with your ice cubes (I recommend solid ice cubes and not hollow ones), screw the cap back on and your done. The opening is plenty wide enough, so that you won't make a mess. If you want to strap it onto a part of your body, just adjust the hook & loop strap to suit your needs. You can use the ice bag with or without the adjustable strap.
My husband has a really painful condition with his knee, so bad that he needs to get a knee replacement next year. He's been using our new ice bag to help soothe the pain and to help keep the swelling at-bay. I've been using the ice bag to help soothe my hip pain and foot pain. Yes, I'm getting ready for hip replacement #2 in a few short months.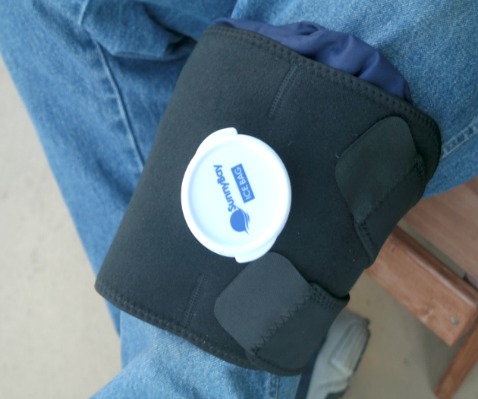 This ice bag conforms to your body. When you use "solid" plastic ice packs they don't do as good of a job and they're weighty on the area that you're trying to soothe. In addition, as those type's of packs melt…they leave condensation and moisture all over the place, making a mess. You won't have ANY of those issues when using the Large Ice Bag from Sunny Bay. In my honest opinion, this thing is PERFECT, absolutely PERFECT!!!
The holidays are just around the corner and Sunshine Pillows has some really cool products that would make great (and practical) holiday gifts! Check out their online store for travel pillows, ice bags, ice wraps, heat wraps and all sorts of other great things!
Reader's Discount: Get 99% OFF, yes, 99% OFF the purchase of the Large Ice Bag from Amazon when you use our special coupon code 99OFFBAG during the Amazon Checkout Process! This means you'll pay .20 cents (plus tax & shipping too). In addition, the company would REALLY LOVE IT if you would go back to Amazon after you receive the item and leave them some feedback about the item you received. There is a limited amount of coupons, once they're gone, they're gone! Limited one coupon code PER READER. This coupon code will be valid starting on October 2oth, 2017 at 5PM eastern time) so make sure you grab one of these fabulous large ice bags while you can!
* This post contains affiliate links. If you make a purchase, we may or may not receive a small commission which helps to support this site. Thank you!
Giveaway: One lucky winner is going to win a Chiropractic Neck Support Pillow from Sunshine Pillows! The pillow is shown above and you can check out our previous review on the Chiropractic Neck Support Pillow to learn more about it. Good Luck!
Giveaway Details: This giveaway is open to residents of the US ONLY age 18 and over. Please read our Terms of Service & Disclaimer Policy before entering. This giveaway will close on November 11th, 2017 at 11:59 pm EST time. No purchase necessary to enter or win.

Disclaimer: Shelly received a complimentary product as featured in this blog post. Shelly's thoughts and words are 100% her own unbiased opinion on the company & products being featured today. The Two Classy Chics are not responsible for prize shipment or fulfillment.