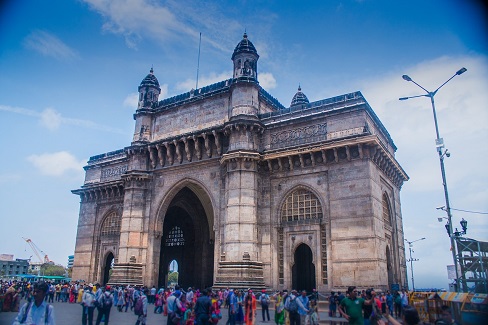 Who has not dreamt of visiting Mumbai and indulging in some serious star-gazing? Mumbai is home to Bollywood and a power-driven megacity. It is home to some of the most magnificent specimens of historical architecture. The city pulsates with life and offers a diverse range of experiences. Here is a list of places you must pay a visit to if you want to experience the heritage of this city.
* Gateway of India – At Colaba, the Gateway of India is an imposing arch on the waterfront and a must-visit of the city. Today this neighbourhood buzzes with energy. With shops and bakeries dotting the neighbourhood, this is the place to head to for warm breads and a good view of the Arabian Sea. Visit 'Celejor' or 'Theobroma' – these two bakeries are a must-visit. Shop for brassware, antiques and trinkets – there are many stores on the Colaba Causeway you can hunt down for bargain deals. If you are looking for restaurants and 5 star hotels in Mumbai, you will find them here. The Taj Mahal Hotel is a heritage structure that lies just opposite to the Gateway of India.
* Chhatrapati Shivaji Terminus – Formerly known as the Victoria Terminus, this building is one of the main reasons why Mumbai enjoys the reputation of being a heritage city. It is a historic railway station and a UNESCO World Heritage site. Carry a camera when you visit this venue, or take a few clicks on your smartphone. The Crawford Market is closeby. With noisy hawkers selling their colourful fare, this wholesale market is a place where you will find everything under the sun! And at pocket-friendly prices!
* Chhatrapati Shivaji Maharaj Vastu Sangrahalaya – Also known as the Prince of Wales Museum, this is a Grade 1 heritage building. Located at the 'crescent site' – the southern-most tip of Mumbai, it is not too far away from the Leopold Cafe, Cafe Mondegar and the Kala Ghoda Cafe. These three iconic eateries are places of atmosphere. Spend some time here to soak in the ambience and unwind after a hectic day of sightseeing.
* Global Vipassana Pagoda – This massive structure was built to honour Gautam Buddha. Marvel at the world's largest stone dome which lies at the center of this building. Essel World is very close to this venue. If you are travelling with children, head there for a fun day of rides and roller-coasters.
* Haji Ali Dargah – This mosque and dargah lies on an islet off the Worli Coast. There is a pedestrian passage to it which is only accessible during low tides. Tour it to offer your prayers and view the sea. The Mahalaxmi Temple is closeby on the Bhulabhai Desai Road. It is certainly worth a visit if you have the time. There are several of good budget hotels in Mumbai near Haji Ali Dargah.
* Elephanta Caves – About 10 km towards the east of the city lie the Elephanta Caves. Located on Elephanta Island, it is a site of sculpted cave temples dedicated to Lord Shiva and Buddha. The ferry-ride to the island is fun for kids and grown-ups alike. Choose the winter months of December and January to visit Elephanta Caves, and you can enjoy exploring the dark caverns and cannon guns on the island.
* Marine Drive – Marine Drive or the Queen's Necklace is a long boulevard hugging the seacoast in South Mumbai. Watch the sun go down as you walk down to Chowpatty towards its north. You will see swanky cars swish by and maybe even do some celebrity-spotting. This posh neighbourhood is home to many! Indulge in some chaats and pani-puris on the beach at Chowpatty. The tastes may fade but the memories will linger forever.
Plan your trip to Mumbai to discover the city as a place where history comes alive. Heritage is a living thing in Mumbai.