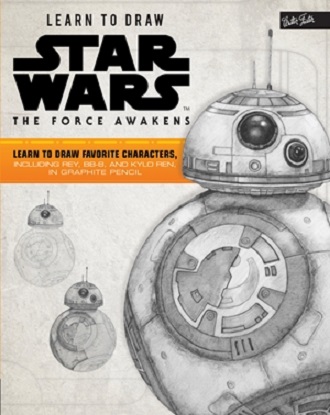 Since the mid 1980's my husband has been a super-fan of the Star Wars movies, books, games and toys. Matter of fact, our game room (his man-cave) is decorated in a Star Wars theme and you'll find many of his collectibles proudly displayed in that room. If I had to guess, I would estimate that he has over 1,500 items in his collection. Yes, he's a super fan!
* Complimentary Book Received for Review.
A few weeks ago I got a press release for this newly released book and I knew it was the perfect book for my husband. Here's some information about the book.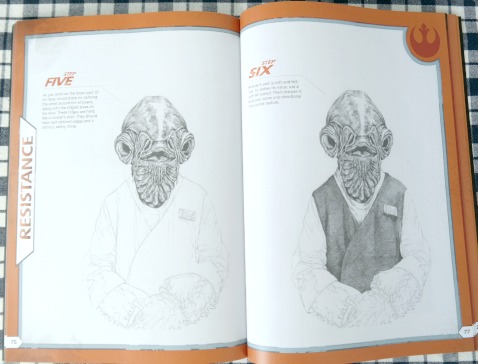 Title: Learn to Draw Stars – The Force Awakens
Learn to Draw Favorite Characters, Including Rey, BB-8, and Kylo Ren, in Graphite Pencil
By: The Walter Foster Creative Team
ISBN: 9781633222632
Book Synopsis: Learn to Draw Star Wars: The Force Awakens brings modern Star Wars iconography to life in stunning graphite pencil, transforming memorable characters including Rey, Poe Dameron, BB-8, and Kylo Ren (along with Leia, Han Solo, and R2-D2) into detailed, realistic portraits. Lucasfilm collaborator and professional artist Russell Walks guides artists step by step and provides insightful notes, drawing tips, and memorable moments for each character from the film. This book allows readers to develop and strengthen their drawing skills, while experiencing this legendary series in a whole new light.
This book is essential for those:
– Interested in step-by-step drawing lessons.
– Interested in step-by-step renderings of new Star War's characters.
– Those who love and adore Star Wars.
– Old fans who love seeing these characters and ships rendered with vintage authenticity, bridging the gape between the old and the new.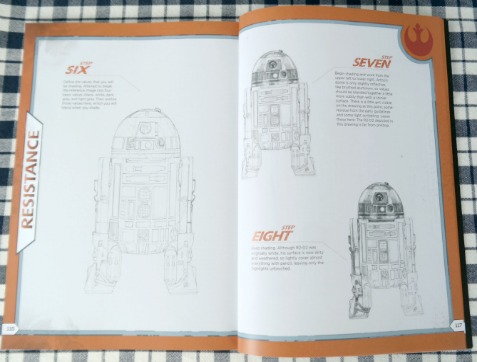 I gave this book to my husband a few days ago and he brought it along with us on vacation. He's been reading it almost non-stop, so that when we get back home…he can sit down and start some drawing projects. One of his favorite Star Wars characters is R2-D2 who is in the book. What's really cool is that they show you step-by-step how to sketch out and draw R2-D2. The instructions are easy-to-understand and to follow. If you follow them it will take you a total of 10 steps to fully draw the beloved R2-D2 Star Wars character. They tell you what to draw, when to draw it, which tools to use, when to add contrast & shading, etc. Seriously, it's like having an instructor standing beside you and showing you exactly what to do. I know this will probably be the first one that he attempts.
Another favorite Star Wars character of his happens to be in the book too! He's a big fan of Admiral Ackbar, the Admiral Commanding the Alliance Fleet and if you follow all of their step-by-step instructions it will take you 9 steps to draw him. They make everything look so easy!
As soon as we get back from vacation I'll be getting him some art paper and graphite pencils, so that he can get started on some drawing projects. I think it will be fabulous for him to work on over the cold winter months, when we're stuck inside. You can purchase the Learn to Draw Star Wars – The Force Awakens Book directly from Amazon for a really great price! You can check out the publisher's website QuartoKnows to see all of the great books that they have to offer.
* This post contains affiliate links. If you make a purchase, we may or may not receive a small commission which helps to support this site. Thank you!

Disclaimer: Shelly received complimentary products to feature in this blog post. Shelly did not receive any monetary compensation. Shelly's thoughts, opinions and words are 100% her own unbiased opinion. Your thoughts may differ.