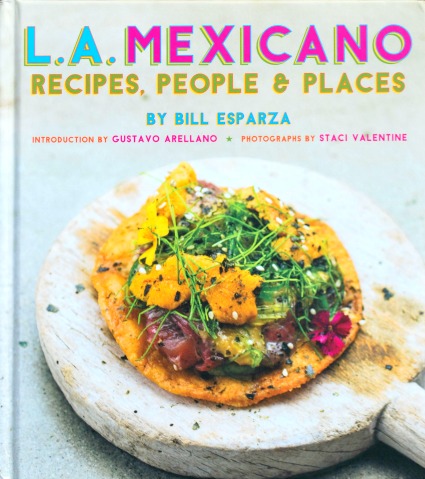 Vibrant. If I had to choose one word to describe Bill Esparza's new book, L.A. Mexicano, it would be "vibrant." Everything about this book is vibrant: the people, shops, eateries, neighborhoods, and, of course, the food. Oh, the food!
L.A. Mexicano breaks through all of the usual cookbook boundaries. The subtitle, Recipes, People & Places, hints at the wealth that is this rich book. Yes, there are recipes, but they're a reflection of the talented and creative people who are at the core of L.A. Mexicano. These people and their places make up the greater L.A. Mexican and Mexican-American culinary scene, and they are captured in their natural surroundings in gorgeous, colorful photographs by Staci Valentine.
* Complimentary Book Received for Review & Feature.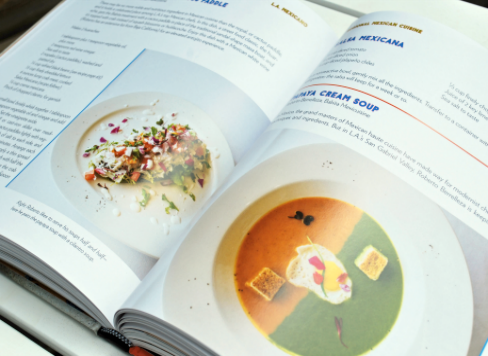 But since L.A. Mexicano is a cookbook, let's talk about that luscious food. The book is organized in such a way that before readers get to a recipe, they read about the people at its source. Each recipe has a story, perhaps its roots or the traditions surrounding it, or maybe the inspiration behind it. Many of the dishes are actually several recipes that combine to make the final product. For example, the recipe from Andrew Lujan, restaurateur at Cacao Mexicatessen, for Squash Tacos with Pumpkin Seeds & Avocado Tomatillo Salsa (Tacos de Calabacitas Cacao, page 150) employs three sub-recipes, Avocado-Tomatillo Salsa, Squash Medley, and Roasted Pumpkin Seeds, any one of which could stand on its own or be used for other purposes (and I see the Roasted Pumpkin Seeds in my near future!).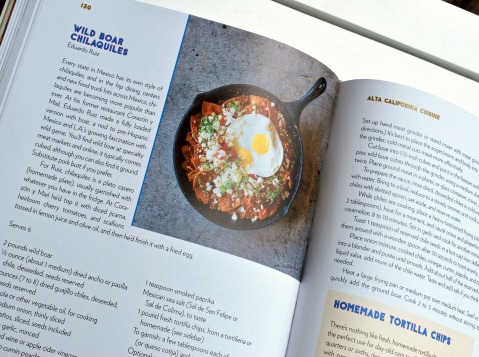 Recipes such as Eduardo Ruiz's Wild Boar Chilaquiles (page 130) are fun to read even though I know I would never attempt them. However, many other recipes are easily accessible and could well become standards in my kitchen, like Elena Rojas' Eastside Pico de Gallo (page 48) and Soledad Lopez's Refried Black Beans (page 65). In fact, I'm sure I'll often refer to the Diccionario for help with terminology and to the Nuestra Cocina (Our Kitchen) section, which covers kitchen equipment, techniques, ingredients, and basic recipes for beans, rice, salsas, and guacamole. One recipe I intend to make soon is the Isthmus-Style Cornbread (page 192) from Ricardo Cervantes & Alfredo Livas of the La Monarca Bakery; unlike typical American cornbread, this version uses fresh corn kernels but no cornmeal, and it sounds delicious.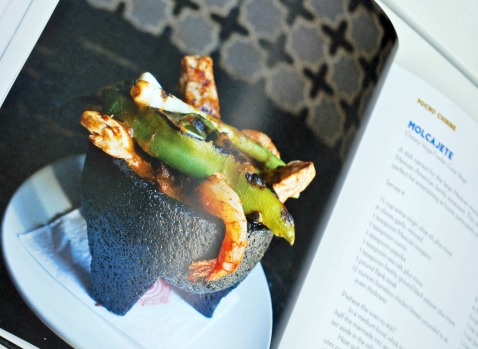 I've never been to California or Mexico, but L.A. Mexicano has given me an inside look into the lush, vibrant culture of Mexicans and Mexican-Americans in the Los Angeles area. Before reading this fascinating book, L.A. was not even on my bucket list of places to visit, but now it's right up there toward the top. Bill Esparza has brought it to life for me and left me wanting more.
* This post contains affiliate links. If you make a purchase, we may or may not receive a small commission which helps to support this site. Thank you!
Giveaway: One lucky winner is going to win their own copy of L.A. Mexicano, thanks to Prospect Park Books.
Giveaway Details: This giveaway is open to residents of the US ONLY age 18 and over. Please read our Terms of Service & Disclaimer Policy before entering. This giveaway will close on November 7th, 2017 at 11:59 pm EST time. No purchase necessary to enter or win.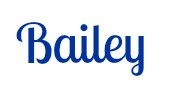 Disclaimer: A. Bailey received a complimentary product for review purposes & feature on The Classy Chics blog. No monetary compensation was received. A. Bailey's thoughts, opinions and words are 100% her own. Your thoughts may differ. Please read the blog's terms of service policy before entering any giveaways. The Classy Chics are NOT responsible for prize fulfillment or shipping of any items won from this blog.