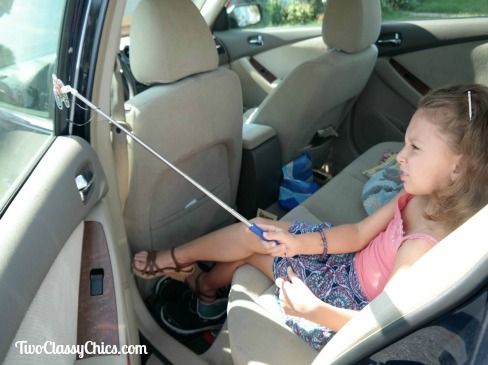 We do a lot of traveling and a few times every year we take our grandchildren along with us. Just like every kid, they get bored easily and need something to do. If we don't keep them entertained…well, things can get pretty stressful, especially in the backseat of the car!
* Complimentary Product Received for Review.
Let me introduce you to the newest thing to hit the retail marketplace called Window Jammers by flambi toys. Window Jammers are a collectible toy system which kids use to drive, fly, gallop and roll across the passing landscape on the inside of a car window. Even though they're made for car windows, they can also be used while riding on a train, bus, etc.
The unique interchangeable characters stick to the end of a telescoping pole and build imagination skills and fun while helping to occupy the kids while traveling. They can do stunts with a twist of the telescoping pole and use their imagination as time passes on.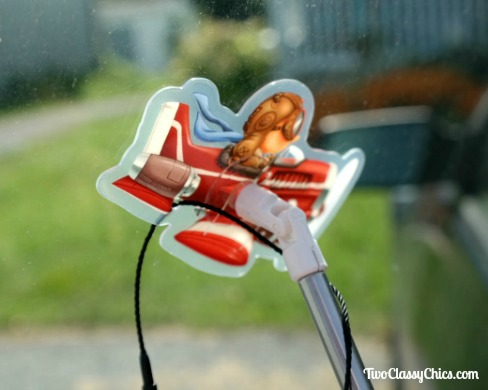 For this review we received a complimentary Window Jammers set to try out for all of you. This item couldn't of arrived at a better time, since we're all getting ready to leave for a family vacation which includes a 4 hour car ride down and another 4 hour car ride back. Our set included: 1 storage bag, 10 interchangeable characters and the telescoping pole.
How do they work? At the end of the telescoping pole is a small suction cup and the plastic characters stick onto it. Your child holds the pole in their hand and uses the window as their guide. As the landscape changes outside their window…they can have their chosen character ride along, jump, rollover, fly in the air, etc. They can let their imaginations run wild.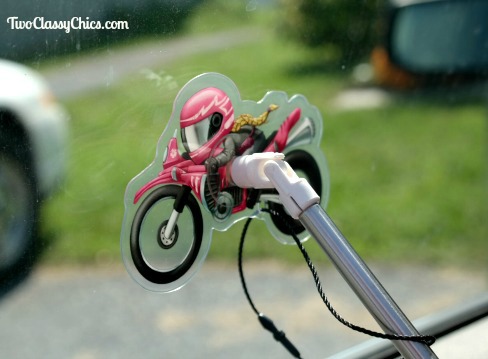 Our one grandchild is 8 years old and the other one is just over 2 years old. To get ready for our trip…we took our 8 year old granddaughter out with us to run some errands to see how it worked. Within 30 seconds…she was glued to playing with her new Window Jammers as we ran around town. Matter of fact, she was a tad impatient when waiting for me to get done at the store, so that we would be back in the car for her to play!
We will definitely be taking Window Jammers along with us on our upcoming trip. I know it will keep both of our grandchildren entertained for hours in the backseat of the car. This is a really great idea and I wish we would of had this in our hands a lot sooner!
You can learn more about Window Jammers by visiting their official website online. Make sure you check out their Kickstarter information too! With the holidays coming up, I think it would make a great holiday gift or any young child on your gift-giving list.
Giveaway: One lucky winner is going to win a Window Jammers Set! Good Luck!
Giveaway Details: This giveaway is open to residents of the US ONLY age 18 and over. Please read our Terms of Service & Disclaimer Policy before entering. This giveaway will close on October 25th, 2017 at 11:59 pm EST time. No purchase necessary to enter or win.

Disclaimer: Shelly received a complimentary product as featured in this blog post. No monetary compensation was received. Shelly's thoughts and words are 100% her own unbiased opinion on the company & products being featured today. The Two Classy Chics are not responsible for prize shipment or fulfillment.