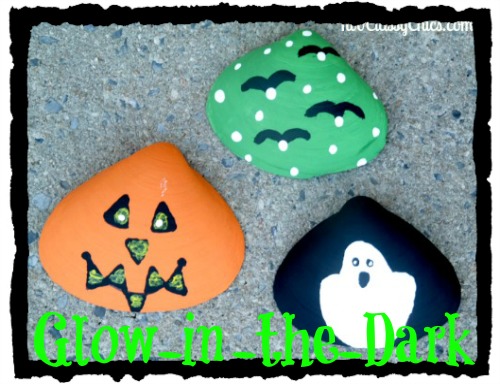 Twice a month I get together with my 8 year old granddaughter and work on various arts and crafts projects. Its a great way for the two of us to spend time together and to teach her some important life skills along the way.
When we were down at the beach house a few weeks ago we collected two large baskets full of clam shells and seashells. We washed them up, dried them and brought them home to use in various craft projects throughout the year. We love crafting with seashells that we find on the beach, plus they're FREE!
Halloween is just around the corner, so we decided to paint some Halloween designs onto the large clam shells and we used a combination of regular paint and glow-in-the-dark paint. Love this idea? Check out our spooky skeleton design too! It's super-easy to make and the kids love them!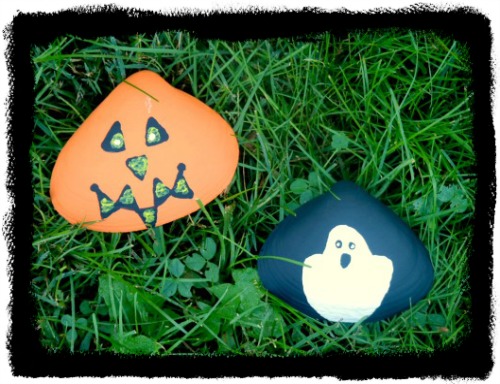 Glow-in-the-Dark Painted Seashells
Large Clam Shells
Acrylic Paint (in desired colors)
Glow-in-the-Dark Acrylic Paint (yellow-lime)
Clear Acrylic Spray Sealer
Foam Paint Brush and Reg. Paint Brush
Water Dish, Paint Pallet, Paper Towels
Newspaper
Lay newspaper down on your work surface. You'll want to use large clam shells that has been washed and thoroughly dried. Our clam shells measure at least 6″ in width and are ones that we found & collected while on the beach.
Using a foam paint brush, have the child paint the outside of one clam shell. Let it dry for 10-15 minutes and then paint a second coat to get good coverage. While one seashell was drying, we painted coats (or second coats) of paint on the other shells. Acrylic paint dries pretty quickly and at-most we waited 30 minutes between coats.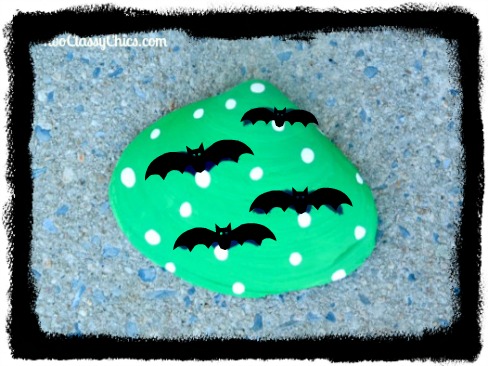 Change over to a regular (thin) paint brush and let the child paint their design onto the shell. The Princess painted a few in Jack-o-Lantern designs, a few in Ghost & Graveyard designs and then a snowy night with bats design. Let the paint set until it's thoroughly dried.
We used glow-in-the-dark acrylic paint to add little accents onto each seashell. For the Jack-o-Lanterns we added the lemon-lime glow-in-the-dark paint to the eyes, nose and mouth. On the ghost design she added it to the ghost's eyes and mouth and she added the white glow-in-the-dark snowballs to her bat design.
Allow your children to be creative all on their own! It's important to let them come up with their own creative designs, instead of yours! Way too often I see parents posting craft projects on their blogs that were CLEARLY not made by a child. I dislike that. You can add input and guidance, but I feel it's important to let the child run free with their own creative designs, even if it's designs we wouldn't choose.
Let the painted shells dry overnight. Take them outside and spray them with 1-2 coats of clear acrylic spray sealer. Let them dry for several hours or overnight. You can now display them in your yard, garden, front porch, back porch or on your deck. Cute!
* This post contains affiliate links. If you make a purchase, we may or may not receive a small commission which helps to support this site. Thank you!