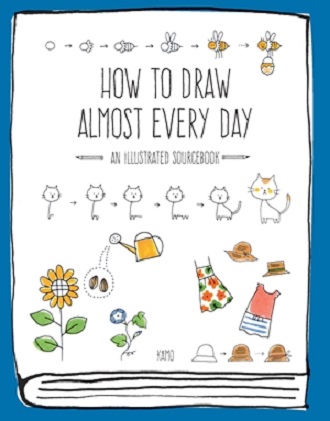 My daughter is 8 years old and loves to craft, draw, paint and doodle. I often will walk into her bedroom and see her sitting at her desk drawing and sketching. She has her artwork hanging all over her bedroom and on the front of our refrigerator. While she's not sure just yet, she's thinking about a career in one of the creative art's fields once she gets older.
* Complimentary Book Received for Review.
The newly published and released book titled "How to Draw Almost Every Day" an Illustrated Sourcebook by KAMO is great for older children, teens and adults who want to explore the art of drawing. I think it's a great little introduction on how to draw and sketch the simple things around us every day.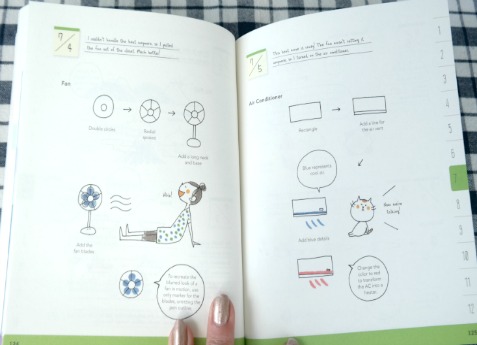 ISBN: 978-1-63159-377-2
Book Synopsis: The best way to become a better artist is by making art every day, but this can be a daunting proposition, especially for new artists. How to Draw Almost Every Day ensures you have new inspiration every day with step-by-step illustrations and daily exercises that will help you achieve this dream and become a better artist.
– Organized as a calendar, these 365 prompts ensure that you have new inspiration every day for a year.
– Step-by-step diagrams make the process easy to understand no matter what skill-level you are at.
– You'll learn to draw items from everyday life, such as food, clothing, and seasonal images such as snowmen and pumpkins.
– Included are inspiring project photos to show you how to incorporate your doodles into greeting cards, calendars, invitations, gift wrap and more!
– Now anyone with a yearning to draw has the one stop prompt they need to get their pencils moving.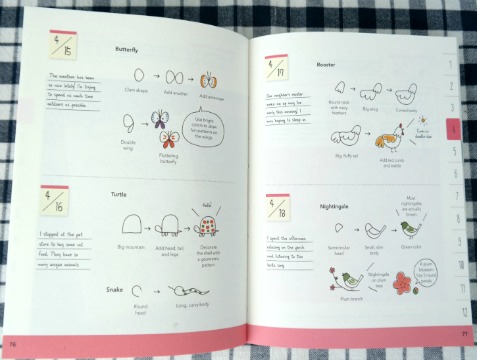 The book is broken down in easy-to-read sections: Winter, Spring, Summer and Fall. There are sections that talk about materials needed, how to draw people with tips and how to draw animals with tips. The sides of the book are tabbed and color-coded for each month of the year. As you go through the book you'll find the how-to drawings & projects are broken down by season, month and day. A great way to keep you on track with learning how to draw a new item every day of the week, month and year.
My daughter loves her new book and has been working on a lot of them. She's probably done a total of 20 or so from this book so far and often re-draws the same item over and over (she practices) until she gets the image just the way that she likes it.
This would be a great book for any older child, teen or adult who's interested in simple drawing and doodling. The author does a great job of breaking it all down and teaching it to you in a very easy way.
* This post contains affiliate links. If you make a purchase, we may or may not receive a small commission which helps to support this site. Thank you!

Disclaimer: Jenelle C. has personally reviewed the product listed above. Jenelle has not received any monetary compensation for her review. Jenelle did receive a free product to try out so she could evaluate and use it for her review. Her thoughts & opinions in this review are unbiased & honest and your opinions may differ. Two Classy Chics is not responsible for delivery of any giveaway items won from this blog. We are not responsible for injury or mis-use of any products won from the Two Classy Chics Blog. Please read our Terms of Service & Disclaimer Policy before entering our giveaways. Thanks!