Earlier this month we published our craft project post on how to paint Halloween designs onto collected seashells from the beach. Those same designs can also be painted on smooth river rocks, if you don't have access to clam shells. You can find our original Halloween Craft Project Glow-in-the-Dark Seashells post right here on the blog to see those original designs.
We're back again today with a quick and easy design that you can add to your growing hand-painted seashell collection. We call this one the Eerie Halloween Skeleton and is one of the easiest designs to make!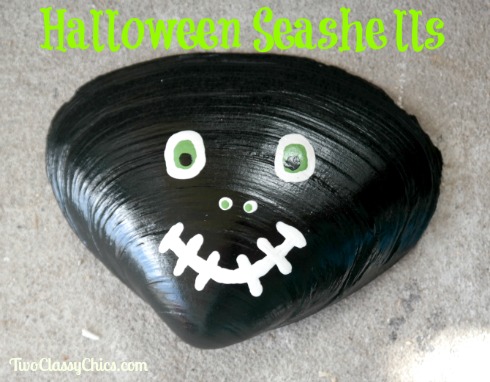 Eerie Halloween Skeleton Clam Shell
Large Clam Shell (clean and dry)
Black, White and Green Acrylic Paint
Paint Brush, Water Dish and Paint Palette
Newspaper and Paper Towels
Clear Acrylic Spray Sealer
Cover your work surface with newspaper.
Paint the entire outer portion of your large clam shell with black acrylic paint. Let dry for 30-40 minutes. Add a second coat of black paint and let dry for 1 hour. Use white acrylic paint to make two large oval shaped eyes, two small circles for the nose and then paint on your skeleton's mouth. Let dry for 30-40 minutes.
Use the green acrylic paint to make a smaller oval shape in the white oval shape to form the inner eye. Add two small dots to the inside of each nostril. Let dry for 30-40 minutes. Use black acrylic paint to dot the pupil inside each eye. Let dry for 30-40 minutes or until completely dry.
Lay a sheet of newspaper down outside. Lay your seashells and clam shells on top. Lightly spray a coat of clear acrylic spray sealer onto the shell. Let dry for 2 hours and then add a second coat, let dry for 6-8 hours. By adding two coats of sealer, you're protecting your hand-painted design, plus your seashells can now be used indoors or outdoors!
* This post contains affiliate links. If you make a purchase, we may or may not receive a small commission which helps to support this site. Thank you!