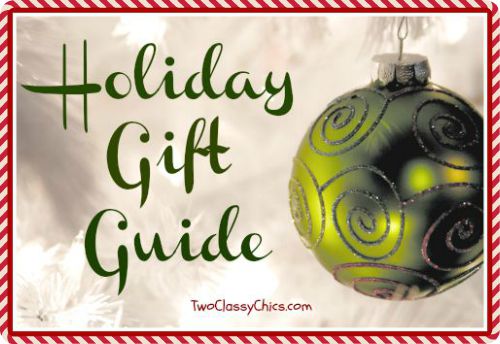 Millions of families every year flock to a beach destination for their annual summer vacation. My family is no exception. When I was a little girl we started visiting the Jersey Shore multiple times every year and now that I'm 50 years old, we still go down to the shore!
One of my favorite things to do when I'm at the beach is to go shelling. I collect beach sand, seashells, driftwood, sea glass and all kinds of different treasures that I find lying along the coast. Over the years, I've amassed quite the collection and I treasure it.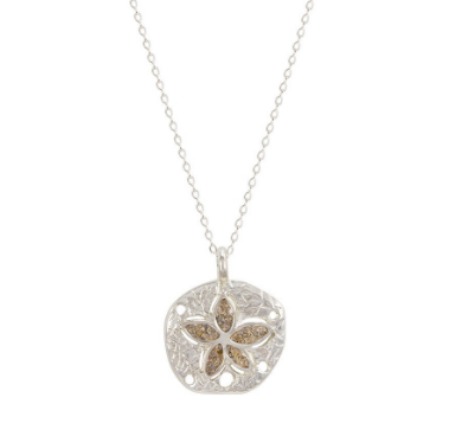 Like most women, I love jewelry and I'm always looking for unique beach theme'd jewelry pieces to add to my collection. A few years ago I stumbled upon Dune Jewelry and was instantly in-love with their unique, high-quality and affordable pieces.
Here's some information about Dune Jewelry: The company captures memories from where you've been, where you love and where you're going. They're the perfect time capsule for all of your beach, adventure and favorite travel memories. All pieces are handcrafted right here in the U.S.A.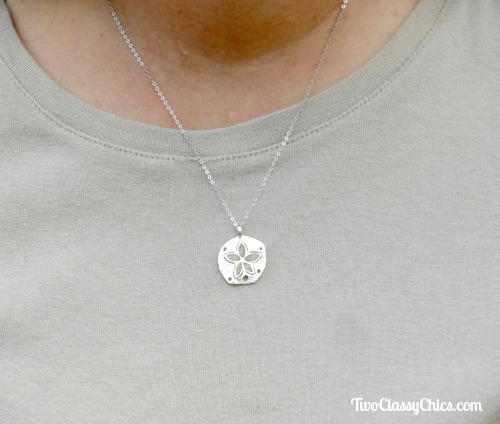 Each piece of Dune Jewelry is filled with sand, clay, earth or other elements from your most cherished travels and adventures from around the world. Each piece is custom, handmade and one-of-a-kind. Visit Dune's Sandbank™ where they offer thousands of sands and locations worldwide, over 3,300 locations to choose from and you also have the option to send your own sand and natural element from a special vacation or adventure.
You can find various "collections" and styles within their jewelry lineup for both men and women. You will find necklaces, pendants, rings, earrings, bracelets, cuff links and more.
For this review I received the Petite Natural Sand Dollar Necklace to check out for all of you. The necklace is made out of .925 sterling silver and is the perfect piece to wear every day. You can wear it casually as your signature piece, wear it to the office or wear it with your favorite dress for a night out on the town.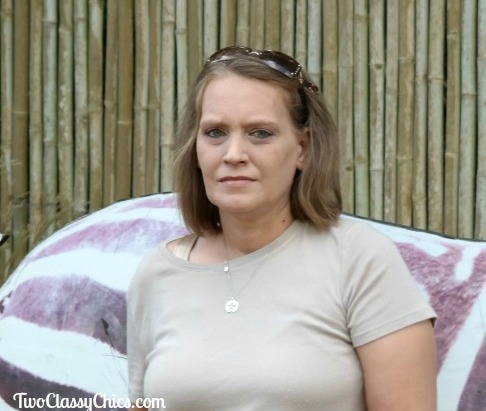 The pendant comes on a .925 sterling silver cable chain that can be worn at a 16″, 18″ or 20″ length. I love that versatility, so I can adjust it to fit with any neckline that I'm wearing. The pendant is about the diameter of a nickel and inside the pendant is genuine beach sand from the 17th street beach in North Wildwood, New Jersey! That's only 2 blocks from our place and our preferred beach when down at the Jersey Shore!
I absolutely LOVE and I mean LOVE my new necklace and I've been wearing it every day since I received it. I've been getting a ton of compliments on it and I've been telling everyone about Dune Jewelry!
Head on over to Dune Jewelry and take a look around. I think you're going to love everything that you see. The holidays are coming up and I think any item from Dune Jewelry would make the perfect holiday gift! You can connect with the company on Facebook too!

Disclaimer: Shelly H. received a complimentary product to feature & review on this blog. No monetary compensation was received. Shelly's thoughts, opinions and words about the product are 100% her own, unbiased opinion. We are not responsible for injury or mis-use of any products won from the The Classy Chics Blog. Please read our Terms of Service & Disclaimer Policy before entering our giveaways. Thanks!