During the fall season, I always pick up a few butternut squash's from my local farmer's market to use in some seasonal recipes. Around here, we can ONLY get them (fresh) during the months of late September through early December.
When I lived down in Lancaster County (Amish Country) during the late 1980's, one of the Mennonite ladies who lived nearby gave me her recipe to make this delicious baked butternut squash casserole. I've been making this casserole every Fall season for almost 30 years. If you're a fan of butternut squash, I think you'll love this casserole and it's perfect for the season.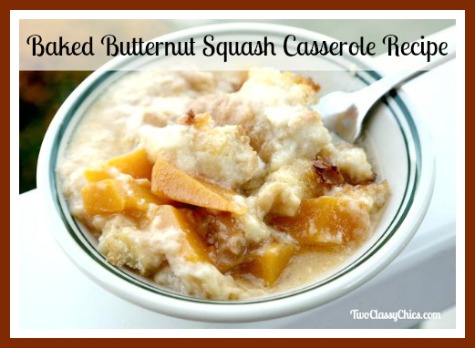 Baked Butternut Squash Casserole Recipe
2 cups butternut squash, peeled and cubed
5 Tbsp. butter, melted
1/4 cup onions, chopped
1 cup cheese, shredded
3/4 cup milk
1/4 cup cream
2 1/4 cups bread cubes
salt and pepper to taste
Note:  I mix together a combination of Cheddar, Parmesan and Mozzarella Cheese to equal the 1 cup of cheese that's called for in the recipe. You can use whatever cheese combination that you like. When it comes to bread cubes, I like to set a few slices of bread out on a plate on my counter-top for a few hours, to firm it up. Then I break it up into smaller cubes.
In a large bowl toss together the cubed butternut squash, melted butter, chopped onions, shredded cheese, milk and cream. Pour mixture into a glass baking dish (I use a 3 quart casserole dish but you could use a 2 quart one). Place cubed bread on top along with the salt and ground black pepper.
Place baking dish into a preheated 350 degree oven and bake for 50 to 60 minutes or until done. Remove and let stand for 5 minutes before serving.
* This post contains affiliate links. If you make a purchase, we may or may not receive a small commission which helps to support this site. Thank you!