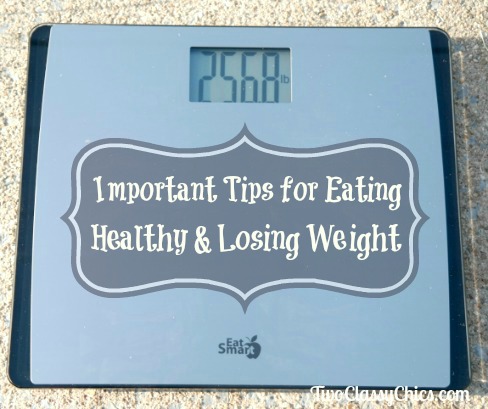 Last year my husband and I made the commitment to eat healthier and to lose weight. We knew that if we wanted to take this journey, we would need to invest in a few new items to help guarantee our success. I'm happy to report that during the past 9 months that I've lost 17 lbs. and my husband has lost 43 lbs., and we continue to lose weight and get healthier!
* Complimentary Product Received for Review & Inclusion.
6 Important Tips for Eating Healthy and Losing Weight
1. Eating healthier and losing weight all starts in the kitchen. These days, most people don't eat the correct portion sizes and most don't know the nutritional values of the foods that they're eating.
We recommend the EatSmart Digital Nutrition Scale and Professional Food & Nutrient Calculator. The database stores the nutritional values for approximately 1,000 foods, which have been carefully selected to reflect fresh, whole foods Americans eat. It features a white backlight to fully illuminate the display for easy readings. Weigh capacity has been increased to 11 lbs. to allow you to weigh most things in your kitchen!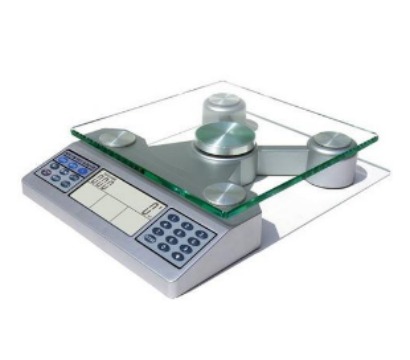 2. Journal or Notebook is essential for keeping track of everything you eat, drink and the exercise that you get. Sure, you can go out there and buy some expensive "tracker" to do that for you…but we found it best to do it on our own in an old-fashioned notebook. What's great about manually keeping track is that you an add notes about your progress or failures along the way. Write down tips that other's give to you and all kinds of other things. It's easy to read back and to keep track.
3. Healthy Menu Plan. If you want to eat healthier and lose weight…you need to learn how to plan out all of your meals. We found it was easier to plan out our breakfast, lunch, dinner and snacks on a weekly basis. Every weekend we would sit down, write it out, purchase our groceries and stick to that menu plan throughout the week. It's all about being organized and knowing what you need to do every day. If you have a plan, you'll be less tempted to eat out, dine on junk food and over-indulge in snack foods, just because you're hungry. We keep our weekly menu plan on a chalk board on the pantry door.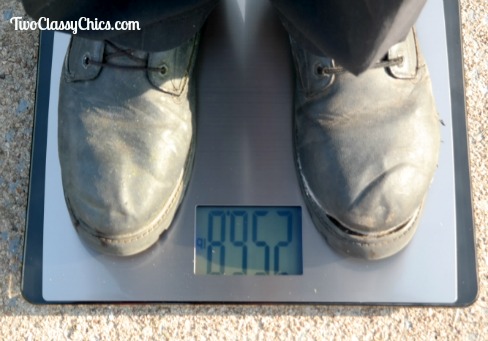 4. Track your weight loss progress with the EatSmart Precision 550 Digital Bathroom Scale. We own this scale and use it all of the time! It's made out of stainless steel and is extra-wide. It will hold up to 550 lbs. There is a large 3.7″ LCD display w/ blue backlight – easy to read from any distance or angle. I love that it utilizes "step on" technology and within seconds of me stepping on the scale…I've got my precise and accurate weight! We love how sleek the design is and it takes up very little space in our bathroom. This scale is the MOST accurate bathroom scale that we've ever owned!
When it comes to keeping track of your weight…you'll want to start off with your base weight and then weigh yourself twice a week, at the same time of the day. We like to do this on Tuesday and Saturday mornings before we eat breakfast and start our day. There is NO NEED to weigh yourself daily unless you have a medical problem and a doctor has advised you to do that. Otherwise, health professionals recommend twice a week as being good enough to track your progress.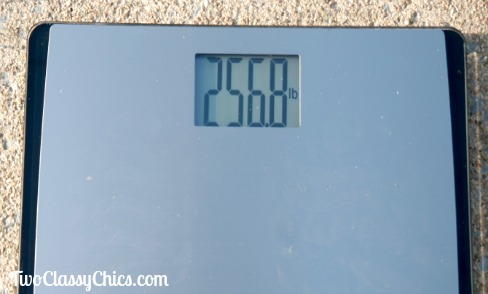 5. Pictures, Pictures, Pictures! We took pictures of our bodies the day before we started this journey. Every 3 weeks we re-took pictures, so that we could see our progress as we went along. When you see your weight loss with your own 2 eyes, it makes a huge difference. It motivates you to strive harder and to push yourself even more! Once you get rolling, don't be afraid to share those pictures with others. Hearing other people tell you that you look nice and that they're proud of your success can help to push you even more to succeed!
6. Move, Move and Move! Regarding exercise, this will all depend on your age, level of fitness and if you have any other medical conditions. We decided to NOT waste money on joining a gym. Instead, we worked out more in our swimming pool, got onto our bicycles a few days a week and we made a point to get out and take a walk almost every day. When possible, we took the stairs instead of the elevator, we would park 4 aisles away, instead of looking for a spot in the first row. To burn even more calories…we made a point to clean something or some room in our home every day. You have to make it a POINT to get up and MOVE! Sitting on the computer for 2-3 hours a day, playing video games, watching TV, etc. well…you're not going to lose weight with that type of activity. You have to dedicate yourself to UNPLUG and get up and MOVE! Simple as that.
* This post contains affiliate links. If you make a purchase, we may or may not receive a small commission which helps to support this site. Thank you!
Giveaway: One lucky winner is going to win an EatSmart Precision 550 Digital Bathroom Scale. Good Luck!
Giveaway Details: This giveaway is open to residents of the US ONLY age 18 and over. Please read our Terms of Service & Disclaimer Policy before entering. This giveaway will close on October 24th, 2017 at 11:59 pm EST time. No purchase necessary to enter or win.

Disclaimer: Shelly received a complimentary product as featured in this blog post. No monetary compensation was received. Shelly's thoughts and words are 100% her own unbiased opinion on the company & products being featured today. The Two Classy Chics are not responsible for prize shipment or fulfillment.