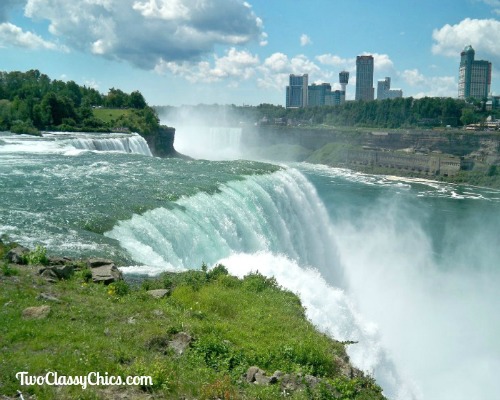 Niagara Falls is one of those travel destinations that should be on every traveler's bucket list. Luckily for us, we only live 7 hours away and have had the pleasure of visiting Niagara Falls State Park twice in the past 3 years.
When visiting, you can elect to view the Falls from the American side or the Canadian side. On this particular trip we were on the American side and I wanted to share a few photos with all of you from our trip as part of our weekly travel feature here on the blog.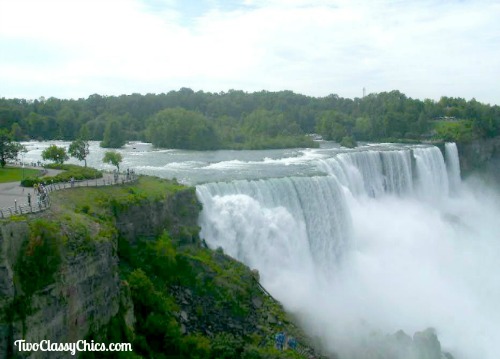 What's really cool is that you'll want to see the Falls during the daytime and then go back again once nighttime arrives. After it gets dark, they turn on the colorful lights which really light-up the Falls nicely. In my honest opinion, you have to see them at least once during the nighttime hours!
The park is quite large in size and as you walk through the park you'll see various monuments and informational plaques. There are paved walking trails and benches along the way, in case you want to sit down to relax. If you have issues walking, you can pay a fee and take a ride around the park on the Niagara Falls trolley.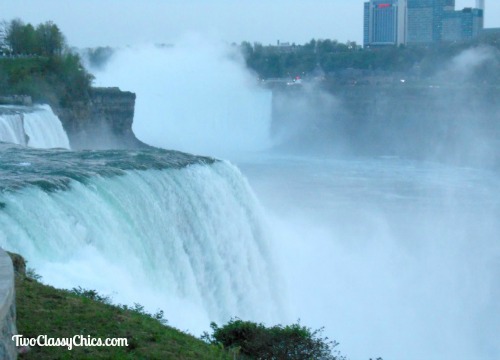 The city buildings and skyscrapers that you see in the first photograph are in Niagara Falls Canada…so we're standing on the New York side looking over to the Canadian side. In the second photograph you can see a little bit of the one scenic overlook and paved walking paths to the left in the photo. The third photo has a funny color to it because it was taken at dusk…just as the sun was setting.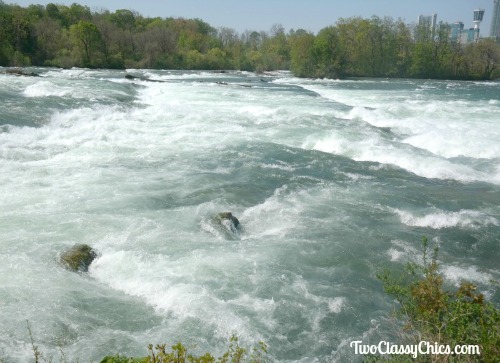 The Niagara Falls river is one of those large rivers that runs from south to north and empty's out into Lake Ontario. I was really surprised to learn that it runs south to north and it was pretty awesome to see how large (wide) the river really is. Plus, those river currents leading up to the Falls are pretty fierce as shown in the photograph above (the fourth photo). The coastline that you see in the photo is actually an island that sits in the center of the river.
Over the coming weeks I'll be sharing a lot of photographs with all of you on other things that we saw and did while on our visit up to Niagara Falls State Park in New York. Like I said, this is one travel destination that should be on every traveler's bucket list and I would never get bored visiting!
* This post contains affiliate links. If you make a purchase, we may or may not receive a small commission which helps to support this site. Thank you!