When it comes to making pancakes for our family breakfast, I'm all about homemade! Seriously, I don't understand why people even buy the boxed mixes, because making them from scratch is easy and you're controlling all of the ingredients. I understand that pre-packaged mixes have their place in the world, but in this case, homemade is best! The recipe makes 4-5 pancakes.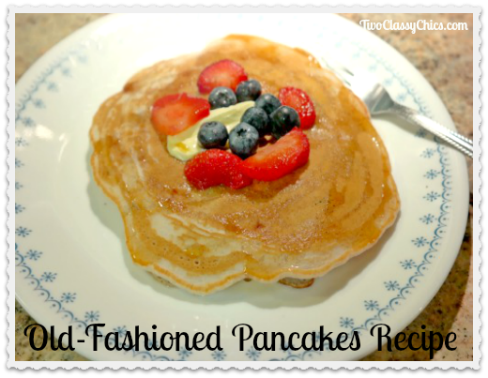 Old Fashioned Homemade Pancakes Recipe

1 1/2 cups all-purpose flour
3 1/2 teaspoons baking powder
1 teaspoon salt
1 tablespoon granulated sugar
1 1/4 cups milk
1 large egg
3 tablespoons butter, melted
In a large mixing bowl sift together the all-purpose flour, baking powder, salt and the granulated sugar until they're combined. Using a large spoon, make a well in the center of the flour mixture.
Melt butter in the microwave (about 15 seconds), set aside. Pour the milk into the well, add-in the large egg and then pour in the melted butter. Mix batter until smooth.
Preheat the griddle over medium heat. I like to spray mine with a little bit of non-stick spray. Spoon batter onto the hot griddle. Once you see browning & the edges start to bubble, you can flip it over and finish cooking the other side.
Remove from the griddle and let sit for one minute on the plate. Top with your favorite toppings and syrup.
* This post contains affiliate links. If you make a purchase, we may or may not receive a small commission which helps to support this site. Thank you!