My Cousin Rachel is a movie based on the classic novel by Daphne du Maurier. It's a romantic and mysterious story that's available for purchase on DVD, Blue-Ray and Digital Download starting on August 29th, 2017. Here's some information about the film.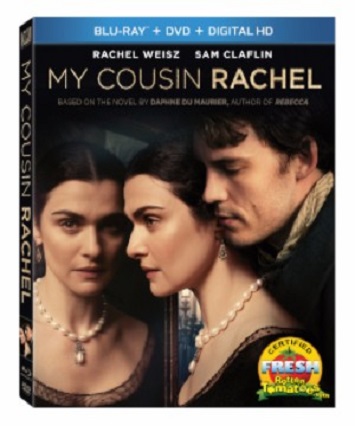 Complimentary Movie DVD Received for Review.
Movie Synopsis: Passion overtakes reason in this dark and layered romance – based on Daphne du Maurier's classic novel – starring Oscar® Winner Rachel Weisz*. Believing his mysterious, beautiful cousin Rachel (Weisz) murdered the man who raised him, Philip (Sam Claflin), a young Englishman, plots revenge against her. But, despite evidence that Rachel might be a killer, Philip finds himself falling deeply in love with her in this visually stunning, tension-laced film.
Jenelle's Thoughts: My husband and I don't get out too often to the theater to see movies, since we have two young kids. After we put the kids down for bed, we popped some popcorn and sat down for a movie night together.
One of the things I was expecting from this movie (after reading the synopsis) was that it would be a mushy-romantic type of movie. It's not. It's full of mystery, drama, intrigue and yes, some romance is thrown in. Matter of fact, the story line is well balanced and could fit within many different type's of movie genres.
It was fascinating to watch Philip go after Rachel for revenge and then fall in-love with her, while trying to implement his "revenge plan". Rachel herself is an alluring and complex character with her own secrets. The two actors did a really good job at playing these two characters and drawing you into the story line.
Per my mother's guidelines, we don't give out movie spoilers and tell you how the movies end. We want you to buy them, rent them and/or download them to find out for yourself. I can tell you that this movie exceeded my expectations and we enjoyed watching it. Perfect for a "date night" movie with your significant other!
* This post contains affiliate links. If you make a purchase, we may or may not receive a small commission which helps to support this site. Thank you!

Disclaimer: Jenelle C. has personally reviewed the product listed above. Jenelle has not received any monetary compensation for her review. Jenelle did receive a free product to try out so she could evaluate and use it for her review. Her thoughts & opinions in this review are unbiased & honest and your opinions may differ.  Please read our Terms of Service & Disclaimer Policy before entering the giveaways. Thanks!