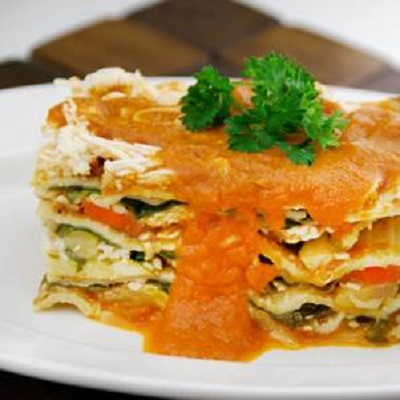 How many of you enjoy Italian cuisine? Here in my home we're huge pasta eaters, especially when it comes to Italian dishes. Every month I make a classic homemade lasagna which my family enjoys. However, we got this recipe in our inbox to share with our readers and now I'm thinking about mixing it up with some vegetables, like the recipe that I'm sharing with you today.
The recipe is courtesy of Veestro and will yield approximately 12 servings.
Homemade Vegetable Lasagna Recipe
8 no-boil lasagna noodles ( 1/2 of 1 lb. package)
1 ( 15 oz.) container Ricotta cheese
1/2 cup grated Parmesan cheese
2 cups shredded Mozzarella cheese
1 tsp dried basil
2 tablespoons olive oil
1 cup chopped onions
1 cup chopped frozen broccoli ( thawed and drained)
1 cup sliced zucchini
1 cup chopped green peppers
1 (25 oz.) jar spaghetti sauce, any flavor
Preheat Oven to 350º F.
Coat a 13×9 inch baking dish with cooking spray or olive oil and set aside. Using a large bowl, combine Ricotta cheese, Parmesan cheese, and basil. Heat olive oil over medium heat. Sauté garlic and onions for 3 minutes, stirring occasionally. Add remaining vegetables and cook until tender, about 5 minutes. Add cooked vegetables into the cheese bowl and mix well. Evenly spread 1 cup of pasta sauce in the bottom of 13X9 baking dish. Lay half sections of uncooked lasagna noodles and ricotta cheese mixture, to create first layer. Create second layer with pasta sauce and Mozzarella cheese. Repeat layering of noodles and cheeses. Cover tightly with aluminum foil. Bake for one hour. Uncover to check, then bake an additional 15 minutes or until hot and bubbly.
* This post contains affiliate links. If you make a purchase, we may or may not receive a small commission which helps to support this site. Thank you!