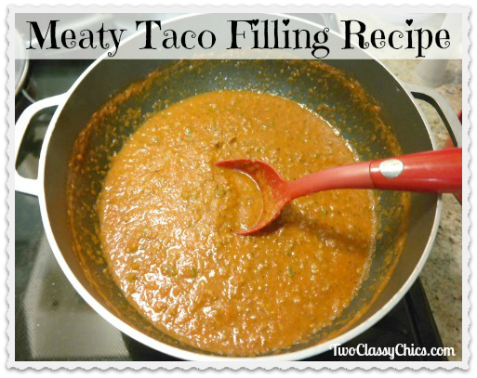 For the past month I've been sharing with all of you some of my favorite home canning and home freezing recipes that I make every year at the end of Summer. I do this to stock up my family's food reserves for winter. A lot of the recipes that I make and have been sharing utilize fruits and veggies that we've grown and harvested ourselves. With that said, you can certainly pick up ingredients at the grocery store or local farmer's market too.
My family eats a lot of Mexican cuisine. We enjoy tacos, burritos and all sorts of other things. To help make things easier during the wintertime, I make up a big batch of what I call Taco Meat Filling and freeze it for later use. This filling can be used in your taco, burrito and quesadilla recipes. It can also be heated up and used as a baked potato topping or spoon it onto your homemade taco salad.
I make my own tomato sauce by harvesting ripe tomatoes from my garden. I blanch them, remove the skin and seeds, and then put them through my blender to make tomato juice. You can save that step by using canned or jarred tomato sauce.
My recipe is per batch that I make. I really don't keep track of the finish amount because that depends on the exact size of the onion, peppers and how much ground beef, etc. that you use.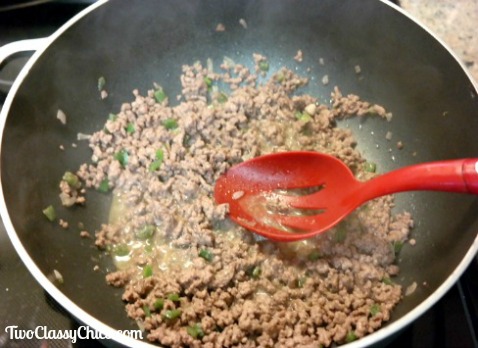 Homemade Taco Meat Filling Recipe
3 quarts of tomato sauce (I use homemade)
1 large onion, finely chopped
1 large green bell pepper, finely chopped
1 small hot pepper, finely chopped
1 to 2 cloves of garlic, finely minced
1 1/2 lbs. to 2 lbs. lean ground beef
1 envelope taco seasoning mix
2 tbsp. basil
2 tbsp. oregano
2 tsp. parsley
1 tsp. adobo
1 tsp. season salt
1 to 2 tsp. red pepper flakes
1/2 to 1 tsp. chili powder
3-4 tbsp. olive oil
In a large skillet…simmer the finely chopped onion, bell pepper and garlic in olive oil until fork-tender. Set aside. In another skillet brown up your ground beef. Drain away grease. Pour ground beef into the first skillet. Add-in the tomato sauce and all of the listed spices. Cover and simmer mixture over low to medium heat for 10 minutes. Remove from heat and let cool. Once it reaches room temperature, spoon into containers and freeze.
Freezing Instructions: I freeze mine in 2 cup containers. It's just the two of us in our household and that's enough for each of us to have 2-3 servings (each) at dinnertime. You can freeze it in smaller or larger portion containers. Label your containers. It will keep for up to 1 year when properly frozen, however, mine is always gone within 6-8 months.
Thawing & Use: You can thaw out your taco meat filling in the refrigerator overnight for use the next day or defrost it (thaw) in the microwave on 50% power for 5 to 10 minutes, until thawed. You'll want to thoroughly heat-up the meat mixture before using it in any recipes.
* This post contains affiliate links. If you make a purchase, we may or may not receive a small commission which helps to support this site. Thank you!