For the past few weeks we've been harvesting a lot of our bell peppers from our backyard garden. This year I had a really good crop of peppers, so we've been using them up in a variety of recipes.
This recipe for homemade stuffed green peppers is one that I got about 15 years ago from my great aunt and my family loves them. You can make them up ahead of time, let them cool and freeze them for later use. When I freeze them…I place them onto a baking sheet and put them into my freezer for 1 to 2 hours to let them firm up. Then I place 4-6 of them into a freezer container or freezer bag. They'll keep for a few months in your freezer just fine (don't freeze them with the cheese on top).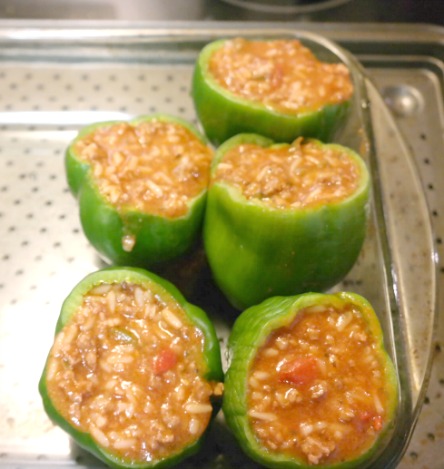 Homemade Stuffed Green Peppers Recipe
6 to 7 large green bell peppers
1 lb. lean ground beef
1/8 cup finely chopped onion
1 small can diced tomatoes with juice
1 medium can tomato sauce
2 cups uncooked white rice
1 tablespoon basil
1/2 teaspoon parsley
1 teaspoon oregano
1/4 teaspoon salt
1/4 teaspoon ground black pepper
1/2 cup shredded cheese (your favorite)
Wash bell peppers, remove stem & seeds, set aside. Cook up the white rice until almost done. It should be el dente. Drain away water and set aside.
In a large frying pan simmer the lean ground beef with the finely chopped onion over medium heat until beef is done. Drain away grease, set aside. In a large mixing bowl combine together all of the above ingredients EXCEPT for the shredded cheese. Spoon filling into the shells of the green bell peppers or into the shells of large tomatoes.
Preheat oven to 350 degrees. Place peppers and/or tomatoes into a large baking dish and bake in the oven for 25 minutes. Remove. Top each pepper or tomato with shredded cheese. Place baking dish back into the oven for 3 to 5 minutes to melt cheese. Remove and serve immediately.
* This post contains affiliate links. If you make a purchase, we may or may not receive a small commission which helps to support this site. Thank you!