Halloween is just around the corner and every year my husband and I throw an annual Halloweeen costume party. We enjoy getting dressed up in some ghoulish costumes and serving some gross foods and colorful cocktail drinks.
If you're going to rock nail art, there is no better time of year to do so than October. The month gives you free range to peruse all the wicked-cool Halloween nail art ideas, and try as many festive manicures as you want. See below for tips from celebrity nail artist, Skyy Hadley (who works on Faith Evans, Janelle Monae, and Mariska Hargitay).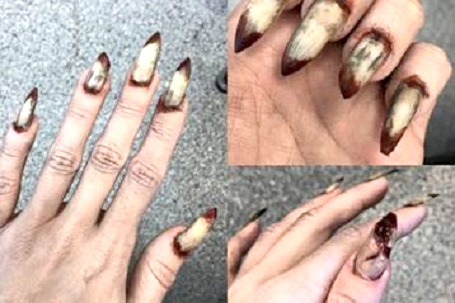 Skyy's DIY Stiletto Nail Art Tutorial
1. Sanitize hands and nails.
2. Start out with a square nail by clipping your nail straight across.
3. Clip the uppermost portion of the two sides diagonally into a triangle.
4. With a file, focus on curving the sides evenly to get a teardrop shape that softens the triangle.
5. Whatever you do on one side, do on the other side. For example: If you do three files on one side, do three files on the other so that it looks symmetrical.