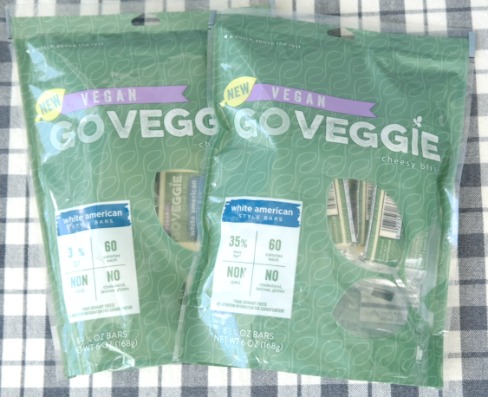 My family loves cheese, all kinds of different cheese. We use it as an ingredient in recipes, in our sandwiches, as toppings and enjoy it as a snack. If cheese was a beverage, my family would probably enjoy it that way too!
* Complimentary Samples Received for Review.
Let me introduce you to the Go Veggie Vegan Cheesy Bliss Snack Bars. These snack bars are crafted with no cholesterol, lactose, dairy or gluten, these plant-based and are GMO-free. You don't have to be a Vegan to enjoy them. The particular flavor that we received for this review is called "White American" style bars.
We received 2 packages for the review and each package contains eight 3/4 ounce bars. We found them in the produce aisle at our local Giant Food Store. Serving size is one snack bar at 60 calories per serving, with 40 calories from fat. You want to store your packages in the refrigerator and they recommend that you DO NOT freeze them.
I first want to state that we're not Vegan. However, my mother needs gluten-free foods in her diet. Since we're all cheese-lovers, I thought this would be a great product for the entire family to try, including my mom.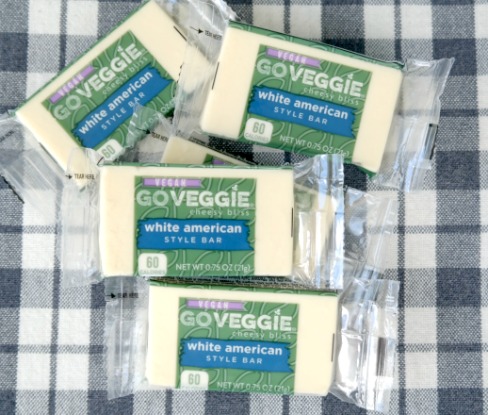 Each snack bar is only 3/4 ounce in size which is pretty small. Personally, I think the portion should be a little larger. Each of my grandchildren would have no issue in eating 3 or 4 of them at a time. Other than portion size, that's my only gripe.
When it comes to taste…we were all pleasantly surprised that it tasted like real American cheese. When I say "real", I mean cheese that was made with milk! It has a really nice texture to it and wasn't hard or rubbery at all. Smooth.  It was really flavorful and you would of never guessed that it was Vegan cheese! Nope, not at all. We give it a big 2-thumbs up!
You can learn more about Go Veggie and their Vegan foods by visiting the company's website online. Looking to try? They currently have a $1.00 off printable coupon on their site. Print it out and use their store locator to find a retailer near you. You can connect with them on Facebook too.

Disclaimer: Shelly received complimentary products to feature in this blog post. Shelly did not receive any monetary compensation. Shelly's thoughts, opinions and words are 100% her own unbiased opinion. Your thoughts may differ.