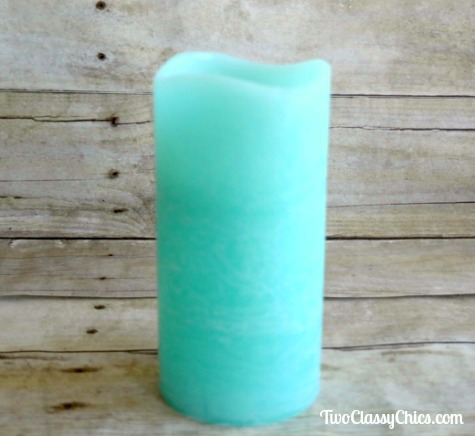 I love flameless candles and I prefer using them throughout my home instead of traditional candles. With that said, flameless candles can look pretty boring, but don't let that stop you from buying them! You can easily add your own decorations to them to match your home decor.
For example…on a recent shopping trip I found 6 flameless pillar candles with timers on clearance for $2.00 and $3.00 each. I used a 10% off coupon and got them even cheaper. I love shopping for bargains. The candles are plain…but pretty in their own right. However, I wanted to dress them up and make them even prettier!
DIY Craft Project – Decorating Flameless Candles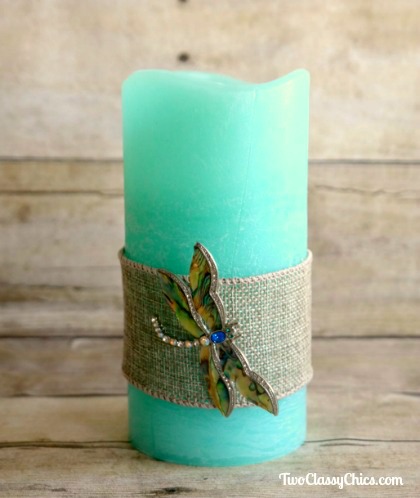 For the first one I used a seafoam colored waxed pillar candle and dressed it up. I wrapped a piece of burlap ribbon around it (off-centered) and tacked it down in the back with a few little drops of tacky glue. Once dry…I simply added an abalone shell dragonfly brooch to the front. I pinned it right through the burlap ribbon. I can change out that brooch/pin as my mood changes or as the season's change.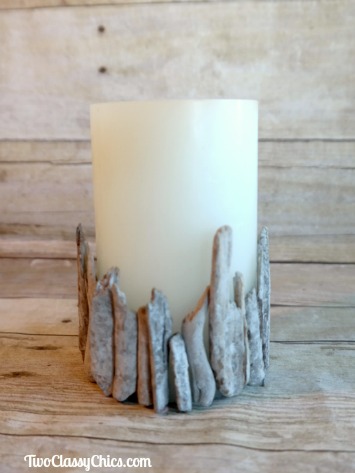 For the second one I used an off-white waxed pillar candle and dressed it up "coastal style". I purchased a small bag of driftwood pieces at the local craft store. I used my hot glue gun and some hot glue to adhere the driftwood pieces around the base of the flameless pillar candle. I used uneven pieces, but you could certainly trim yours to be even. Since I used hot glue…it was dry within minutes and ready to be used. You could also glue on some small seashells, sand dollars and mini starfish too.
As you can see…you can easily change the look of your flameless pillar candles with just a few items you probably have on-hand or pick up at your local craft store. I decorate mine all of the time!
You can glue on silk flowers, dried flowers, colored pebbles, small seashells, all kinds of ribbons, add pieces of jewelry (great way to use broken pieces), glue on colorful buttons and so forth!
* This post contains affiliate links. If you make a purchase, we may or may not receive a small commission which helps to support this site. Thank you!