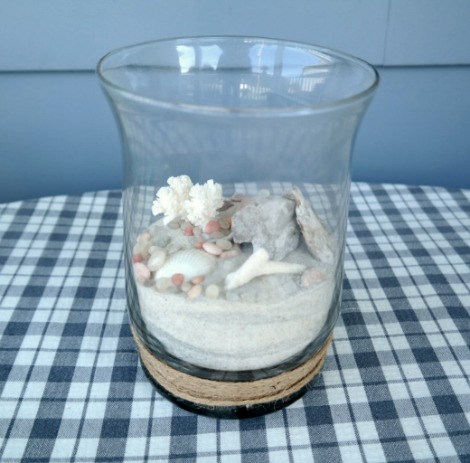 If you've been reading my blog for the past 8 years, you'll already know that I'm a total lover of the beach and ocean. I think the coastal areas in our country are the most beautiful places on earth. To reflect my love for the ocean and beach, I decorate the inside and outside of my home in a coastal and beach theme.
Today's craft and DIY project is really easy to make and I made mine in less than 30 minutes. If you don't have a large glass vase, you can use a glass hurricane, glass candle holder or another item to house your design. If your short on space, downsize the project and do it in a glass fishbowl!
I picked up my large glass vase at a yard sale for $1.00. Rummage through your house to see what you have or go out and hit-up a few yard sales to find supplies.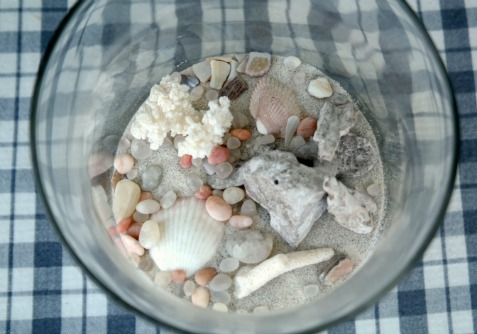 DIY Seascape with Seashells in Glass Container
Large Glass Vase (or) Clear Glass Container
Beach Sand
1/4″ Diameter Jute Rope
Hot Glue Gun and Hot Glue
Scissors
Seashells, Coral, Driftwood, Sea Stones, etc.
I used 1/4″ diameter rope aka jute and glued it around the bottom of my vase to add more of a beachy feel. I think I wrapped it around about 5 or 6 times and secured it with hot glue.
Fill up your glass container with the desired amount of sand. I used real sand that I collected at the beach. You can use natural colored sand from a craft store too.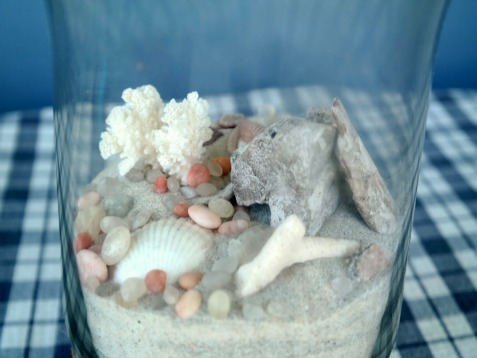 Next, you want to layer in your seashells, coral pieces, sea stones, small sand dollars, starfish and any other little tokens that you've collected at the beach. If you have none, you can find bags of seashells at your local dollar-type of store that you can use.
That's it you're done! You can make them in big glass containers to use as table centerpieces or to sit on your mantle. Make them in smaller glass containers to use as home decor accents or to give as gifts. If you have an air plant, you can tuck one of those in there too!
* This post contains affiliate links. If you make a purchase, we may or may not receive a small commission which helps to support this site. Thank you!