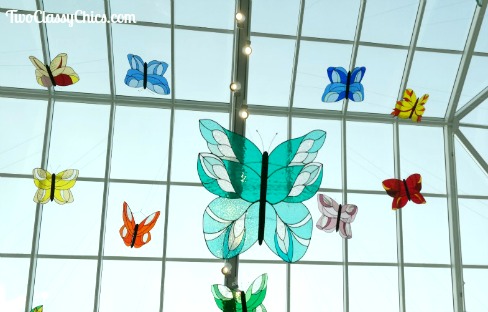 The Hershey Gardens and Butterfly Atrium is located in Hershey, Pennsylvania. If you've never visited before, it's located on Hotel Road, near the Hotel Hershey. It sits up on a hill that overlooks portions of Hersheypark, the famous amusement park on the east coast.
My husband and I enjoy visiting botanical gardens and I have to admit, we have a nice flower garden started on our own property. Our 8 year old granddaughter loves butterflies, so we planned a family play date and visited the Hershey Gardens and Butterfly Atrium.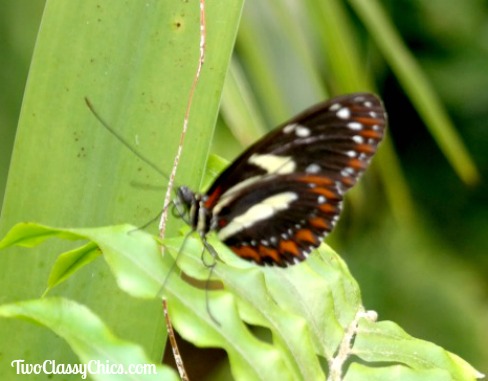 The admission price is really reasonable and we paid less than $30.00 for all three of us to get in to tour the botanical gardens and to visit the butterfly atrium. Parking is free and we were able to park really close. They're open year-round and handicap accessible.
We spent about 1 1/2 hours walking through the gardens. They're huge, so you'll want to allow yourself plenty of time to explore them. In addition to the garden, there is a Children's Garden that includes fun things for children to do and things for them to see. You'll want to dress appropriately for the season and wear comfortable walking shoes. You'll be doing a LOT of walking!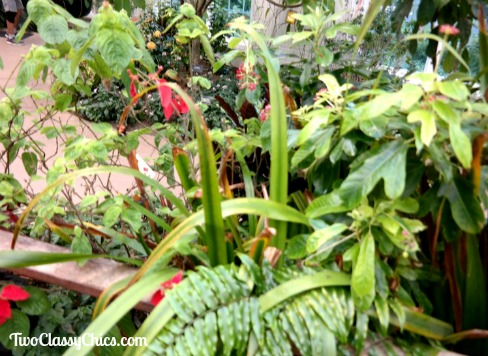 In the coming weeks I'll share an extensive feature with all of you on our tour through their beautiful flower gardens. They're broken down into themes and cover numerous acres. Matter of fact, according to my Fitbit, I walked a total of 2 miles just walking through their beautiful gardens!
Today's post is being focused on the Butterfly Atrium which is part of Hershey Gardens. It's housed indoors, so it's a great year-round, family-friendly attraction. Almost everyone that I know enjoys seeing butterflies and this attraction is a definite must-do if you're in the area.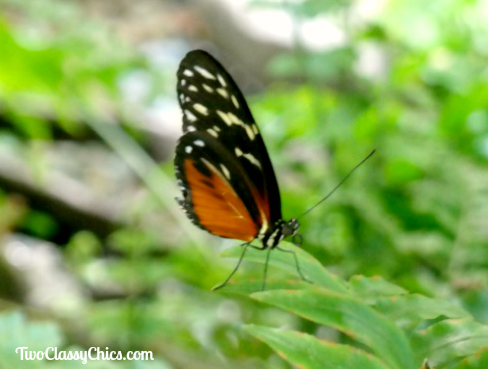 Once you enter the Butterfly Atrium you'll want to pay attention to where you're walking, being careful to not step on any of the butterflies.They're allowed to touch you (land on you), but you're not allowed to touch them or the plants. In addition, I recommend that you remove your coat before going in…it's set up like a tropical rainforest and it's quite warm inside.
As you're walking around you will see hundreds of different butterflies from all over the world. I believe the majority of them are species from North America, Central America, South America, Asia and Africa. They freely fly around! You'll spot them on the ground, hiding in the foliage, hanging on the walls and clinging from the ceiling.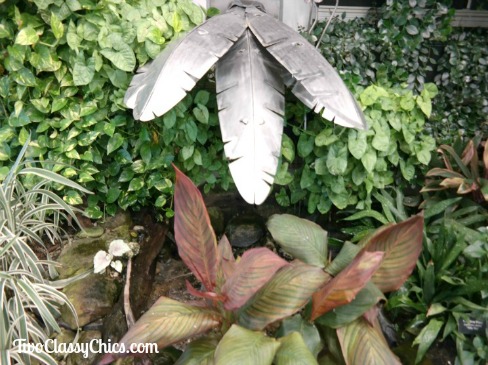 There is a lot to see, so you'll want to take your time as you go through. These are NOT guided tours, so go along at your own leisurely pace. On the day we were there, we spotted two different feeding stations that were set up with juicy slices of watermelon and pineapples. Those butterflies were loving those fruits!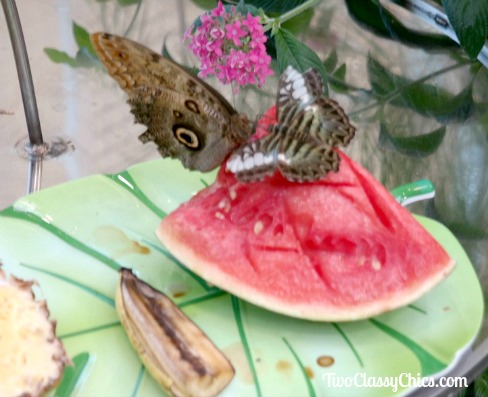 If you plan on just visiting the Butterfly Atrium, you'll want to allow about 40 minutes in your schedule. After your done you can head out into the botanical gardens and tour those or visit the gift shop which is right next door. We had a great time (our third visit), and we'll definitely be visiting again next year!