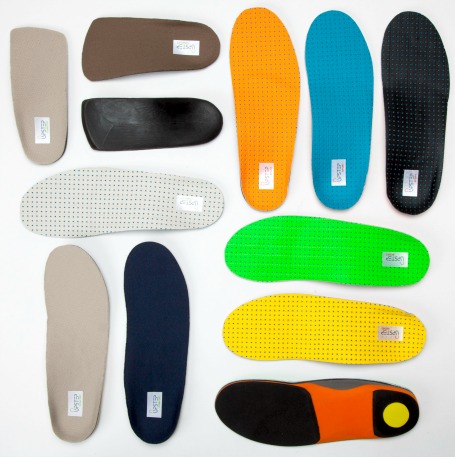 Athletes searching for better performance and people with foot, leg, and back issues know that custom-made orthotics can help but can also be very expensive. If you're in the market for orthotics, I've got good news: After more than 17 years of experience making custom orthotics for everyday and sport use, Upstep has launched a USA-based online service! Even better, they cost less than orthotics purchased through a podiatric clinic—up to 35% to 50% less.
Upstep's Sport line includes orthotics specific to different activities including golf, tennis, and running, while their Everyday orthotics can be customized to deal with foot conditions such as heel or arch pain and plantar fasciitis. With over 50 combinations of materials, they can adapt the orthotics to each customer's individual needs.
* Complimentary Product Received for Review.
For my husband, a day of extensive walking and being on his feet at a conference or forum leaves him hurting. He was excited to try Upstep custom orthotics to help him get through those long, tiring days. The whole process of getting his individualized orthotics couldn't have gone more smoothly.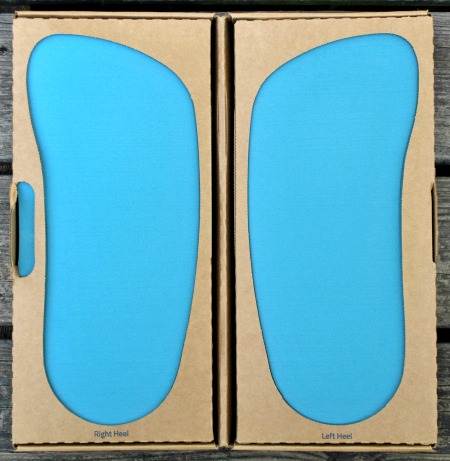 Ordering Upstep custom orthotics has two parts. First, you supply Upstep with specific information about your needs (e.g., type and brand of shoes, shoe size, any issues you have) and a photo of your shoes, and they send you a footprint impression kit. Second, you use the kit to make a mold of your feet, then return it to Upstep in a prepaid FedEx package. In roughly two weeks, your custom orthotics arrive at your doorstep! The entire process is simple and easy, especially considering that each pair of orthotics is unique and made to order.
Within 90 minutes of placing my husband's initial order, I received an email notification that the footprint impression kit had shipped via FedEx ground. Two days later, we received the impression kit. About two weeks after returning the kit, my husband was wearing his Upstep orthotics. Talk about fast turnaround!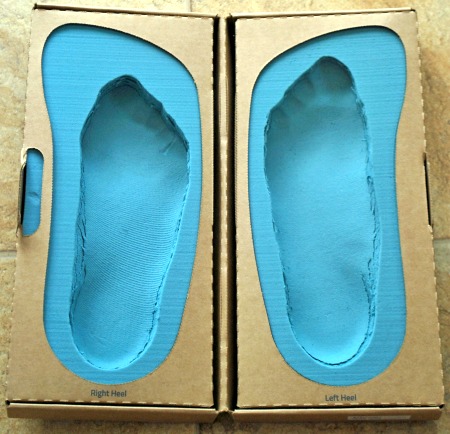 The impression kit is a cardboard box split into foam-filled halves, one for each foot. The instructions are quite clear, but if you're unsure about any part of it, Upstep has a step-by-step video on their website. You can make your foot impressions either in your bare feet or wearing socks.
If there's a FedEx location near you, you can drop off your completed kit there. In our case, a friendly FedEx driver came to the house to pick up my husband's impression kit. Almost before we knew it, his custom-made Upstep orthotics were delivered. It was that easy!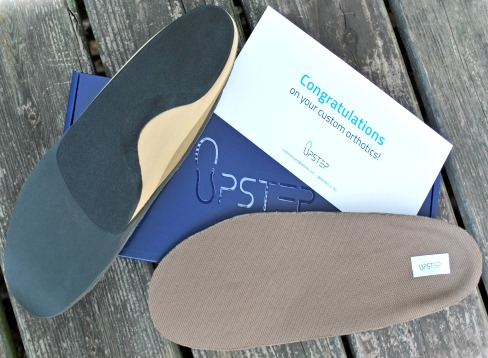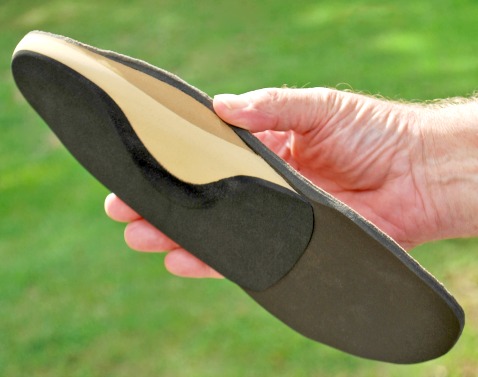 My husband says his Upstep orthotics are very comfortable, making a pair of his favorite shoes feel even better. Specifically, he said the shoes were comfortable to start with (which is why he chose them) but the orthotics made them even more so, with improved support for standing and walking. He's looking forward to using them during his next conference, and I won't worry about him being on his feet so much.
Prices for Upstep custom orthotics range from $189 to $239, including free shipping and a money-back guarantee (they'll adjust your orthotics if you're not fully satisfied, or refund the full amount within 60 days). Their customer service team is available to help with questions or problems at any time during the ordering process and after receipt of your orthotics as well.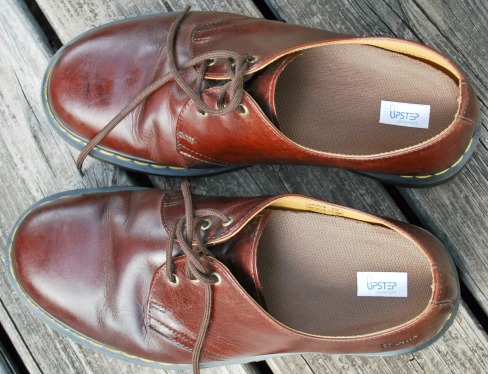 Giveaway: One very lucky winner is going to win their own pair of Upstep custom Sport or Everyday orthotics! Good luck!
Giveaway Details: This giveaway is open to residents of the US ONLY age 18 and over. Please read our Terms of Service & Disclaimer Policy before entering. This giveaway will close on September 21st, 2017 at 11:59 pm EST time. No purchase necessary to enter or win.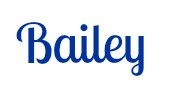 Disclaimer: A. Bailey received a complimentary product for review purposes & feature on The Classy Chics blog. No monetary compensation was received. A. Bailey's thoughts, opinions and words are 100% her own. Your thoughts may differ. Please read the blog's terms of service policy before entering any giveaways. The Classy Chics are NOT responsible for prize fulfillment or shipping of any items won from this blog.