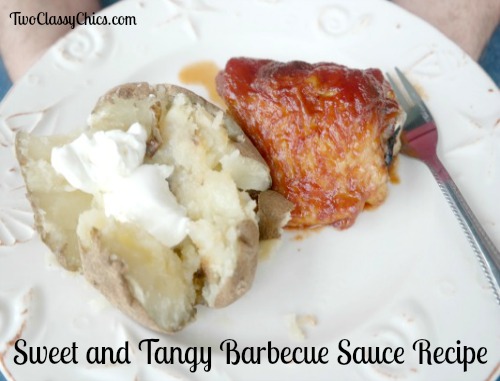 When it comes to barbecue sauce, I'm all about using homemade. With that said, I will use bottled sauces when I'm pressed for time. My husband and I both have GI issues, so we typically stay away from the one's that are super-spicy and go for ones that are sweet-and-tangy. In my book, the sweeter, the better.
We like using this Sweet and Tangy Barbecue Sauce when we make grilled chicken and have also used it on pork chops and ribs too! You can check out our other Homemade Barbecue Sauce Recipe and the Teriyaki Chicken Wings with Hot Mango Dipping Sauce Recipe right here on our blog!
Sweet and Tangy Barbecue Sauce Recipe
2 cups light brown sugar
2 cups cider vinegar
1/2 cup catsup
1/2 cup hot sauce
1/2 cup molasses
dash of salt and ground black pepper
Place all of the above ingredients in a 3-quart saucepan and simmer over low heat for approximately 45 minutes. You'll need to stir it every 10 minutes to keep it from getting lumpy and sticking.
Option: If you don't want to make it on the stove-top, you can place all of the ingredients into a small-sized slow cooker and simmer it over the low heat setting for 2 hours, stirring it every 20-30 minutes.
Once the sauce has been prepared, you can brush it over chicken or pork. Bake or grill until your preferred meat is done.
* This post contains affiliate links. If you make a purchase, we may or may not receive a small commission which helps to support this site. Thank you!