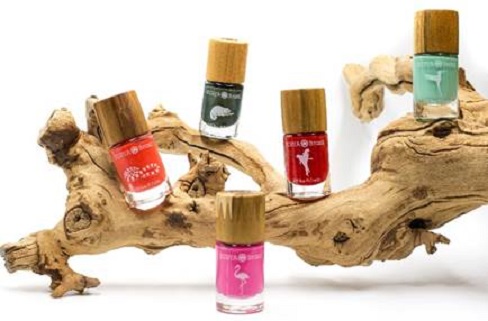 With Fall right around the corner, it's time for a major seasonal style shift and that includes your nails! Certified 7-free, vegan and never tested on animals, Surya Brasil's Exotic Animals Nail Polishes paint your nails in splashes of nature's wonderfully vibrant colors.
* Complimentary Products Received for Review.
The collection, which pays homage to exotic animals like the Peacock (metallic blue) and the Flamingo (bright pink), features 16 polishes ($12 each) in unique shades as well as a Base Coat, Extra Shine Top Coat and Oil Dryer that leave your nails feeling beautiful and healthy.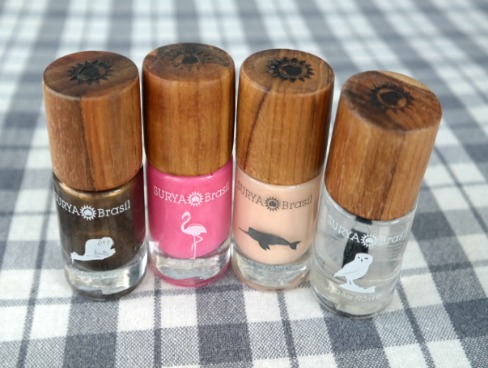 For this beauty feature we received 4 complimentary bottles of nail polish from the new Exotic Animals Collection. Here's what we received:
Amazon River Dolphin – They describe it as a delicate pink skin shade, but to be all honest, it's more of a very delicate peachy-tone skin shade. Perfect for those of you who like the "almost" nude and natural color to your nails.
Flamingo – This a beautiful hot pink shade of polish. Perfect for your nails or your toes! This one was a big hit with my 8 year old granddaughter and 32 year old daughter.
Gold-Faced Lion Tamarin – This is my favorite shade out of the ones that we received. It's a bright golden-brown color with a metallic finish. I absolutely LOVE this shade on my toes!
Exotic Animals Oil Dryer – The Oil Dryer protects the nail polish. Apply a drop to each nail after applying the color and top coat for a quick dry! This is a great product, instead of waiting 30-45 minutes for my nails to dry, I only had to wait 10-15 minutes and I was good to go. One drop per nail is all you need!
I held a little "spa party" and invited my 68 year old mother, 32 year old daughter and 8 year old granddaughter over for a mani and pedi day with me. After we soaked and moisturized our feet and hands…we got busy trying out our new nail polishes from Surya Brasil.
My mom preferred the Amazon River Dolphin shade, my granddaughter and daughter were both all over that Flamingo shade and I decided to NOT share the Gold-Faced Tamarin with anyone…since I love it so much and I want it to last!
One of the things that impressed us with this nail polish is that you only needed 1-2 coats, depending on the shade that you were using. The polishes are the perfect consistency, not too runny nor to thick. You get really nice coverage and more importantly, you get long wear!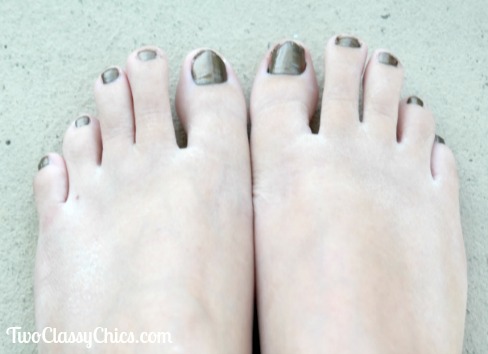 For example: I used a base coat, then 1 coat of polish and then finished up with the clear oil dryer. That's a total of 3 layers on my nails. I didn't need to do any touch-ups until day 6 which was partly my fault since I chipped one nail while out gardening. I really feel you could get a good 10-12 days of wear before you would need to change out, possibly longer depending on how many coats that you use and the top coat. Definitely impressive!
You can head on over to Surya Brasil to check out the entire Exotic Animals Nail Polish Collection along with the other beauty products that they have to offer. You can connect with the company on Facebook too.

Disclaimer: Shelly H. received a complimentary product to feature & review on this blog. No monetary compensation was received. Shelly's thoughts, opinions and words about the product are 100% her own, unbiased opinion. We are not responsible for injury or mis-use of any products won from the The Classy Chics Blog. Please read our Terms of Service & Disclaimer Policy before entering our giveaways. Thanks!