Unless you have really fine or oily hair, you are one of those ladies (like me) who probably enjoys skipping a day in between hair washes. My day is usually Sunday and I like to put on sweats and go run my weekly errands. For this, I don't usually deem it a "hair washing day" and throw my hair in a ponytail or refresh it with a dry shampoo and go. I was recently introduced to Tish & Snooky's Manic Panic N.Y.C.'s brand new MANIC PANIC Hair Freshener Powder Dry Shampoo.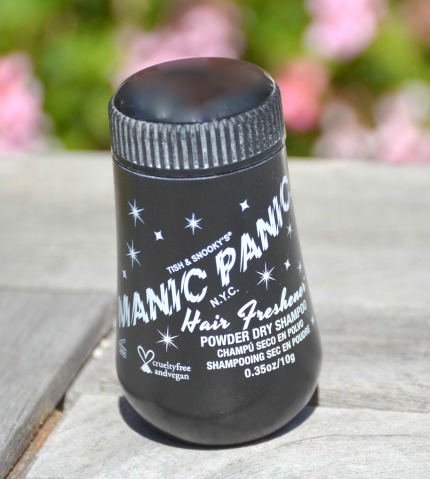 MANIC PANIC Hair Freshener is a great product to use on those days you would rather not wash your hair. This powder will not fade your hair color and it's free of harsh detergents that are found in most shampoos. It also absorbs oil and adds volume to hair in between washes. I love the fact that I can get volume with this lightweight powder even without washing and using my big round brush and a dryer. This powder is 100 percent vegan, offers UV protection and it keeps your hair looking fresh and styled without parabens, alcohol or sodium.
I've used it a few times and actually like it better than the spray dry shampoos. It's super convenient and I'll definitely be taking it with me on my next trip. It's also perfect for those days when you might be running a little late and need to get out the door ASAP. This product offers a little sprinkle of sanity on a crazy morning. Simply shake the powder onto roots and massage evenly throughout hair for an instant style refresher.
MANIC PANIC is less than $10 and is available on the company's web site. You can connect with the company on Facebook too.

Disclaimer: Kristine has personally reviewed the product listed above. She has not received any monetary compensation for her review but did receive a free product to try out so she could evaluate and use it for her review. Her thoughts & opinions in this review are unbiased & honest and your opinions may differ.