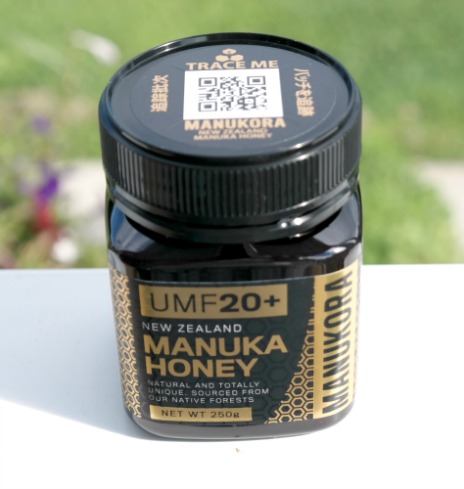 A few months ago I was diagnosed with melanoma and within 2 weeks of the diagnosis, I had surgery and began treatment. I'm blessed that this was caught early and with treatment, they expect that I'll have a complete recovery.
During my initial treatment process I met with a nutritionist as part of my medical team. This nutritionist told me that she recommends that the majority of her patients take daily doses of New Zealand Manuka Honey. I've always enjoyed honey, but had never tried Manuka Honey before. This was completely new to me.
After doing some Google searches I found Manukora who offers genuine New Zealand Manuka Honey. The company graciously sent me a complimentary jar of their UMF20+ New Zealand Manuka Honey to try out for you. It's a 100% natural and pure honey that is sourced from the native forests in New Zealand. Each batch of honey is tested by UMF certified laboratories to ensure its purity and quality as well as the Unique Manuka Factor (UMF) rating.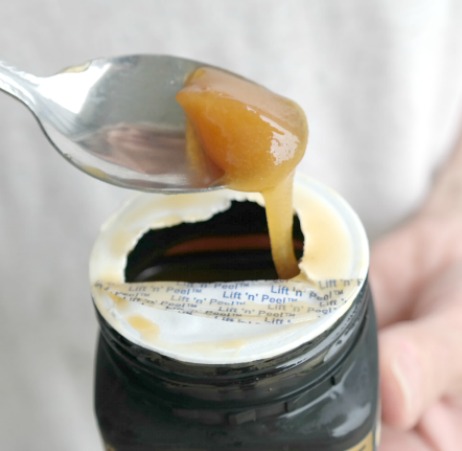 Nutrition Facts:  Serving size is 1 Tbsp., Calories 60.
Manuka Honey is extremely good for our bodies. I'm no medical expert, so I'm only sharing with you my personal experience with it. During my medical treatment I ended up with several painful mouth ulcers inside my cheeks, under my tongue and on my tongue. I was told that this is a common side effect caused by treatment.
As soon as I received the product, I started taking 1 tbsp. of Manuka Honey every day. Most of the time I just took it straight out of the jar, as recommended by medical professionals. A few other times I slathered it onto my toast or toasted bagel in the morning, instead of using butter. From what I'm told, if you're trying to obtain the medical benefits from this medical-grade honey, it's best to NOT cook with it or over-heat it…which can break down it's healthy properties. Hence, I did no cooking or baking with it.
Another great use for Manuka Honey is on burns. I got a burn on the top of my hand and after cleaning the burn area, I applied the honey directly onto the wound with a clean dressing. Within 2 hours, that burn felt soothed and the stinging was gone. The Manuka Honey has great natural antibacterial properties to it, so a lot of burn centers are using it too. Since I've now tried it for a burn, it will definitely be my first go-to in the future for burn treatment too.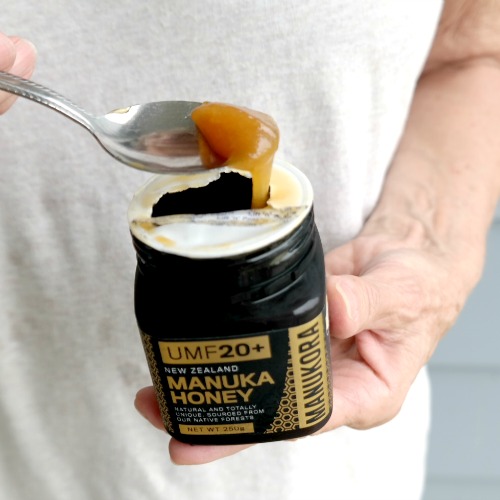 Here are a few other uses for it:
– To help soothe and heal sore throats.
– To help with digestive issues (stomach and intestinal).
– Can cure Staph infections.
– Can health mouth ulcers, lip blisters and gingivitis.
– Heal acne on the face and/or body.
– Can help lessen or stop seasonal allergies and sinus infections.
– You can learn more by doing some research online.
Now that I've personally tried New Zealand Manuka Honey (on recommendation of my nutritionist & doctor), I'll be adding it to my regular routine. I firmly believe that it's helping me with my medical ailments that I've described above. Again, I'm not a doctor and I don't play one on TV. I'm just sharing my personal experience with the product with our blog readers.
I would like to invite you to visit the Manukora website online to learn more about the company and the products that they have to offer. I'm very grateful to the company for participating in this feature and educating me on some of the benefits of using pure New Zealand Manuka Honey.
* This post contains affiliate links. If you make a purchase, we may or may not receive a small commission which helps to support this site. Thank you!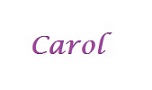 Disclaimer: Carol received a complimentary product as featured in this blog post. No monetary compensation was received. Carol's thoughts and words are 100% her own unbiased opinion on the company & products being featured today. The Two Classy Chics are not responsible for prize shipment or fulfillment. This post may contain affiliate links. If you purchase an item through an affiliate link, we may receive a small commission which helps to support this site.