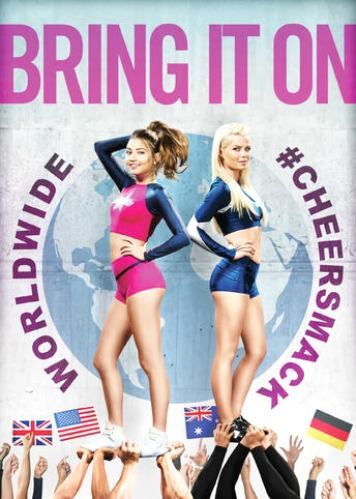 Bring It On: Worldwide #CheerSmack, the sixth installment in the popular franchise, will be released on Blu-ray and DVD August 29th, 2017 from Universal Pictures Home Entertainment.
* Complimentary DVD Movie was Received.
Bring It On: Worldwide #Cheersmack stars Vivica A. Fox as the Cheer Goddess, as well as Cristine Prosperi ("Degrassi: The Next Generation"), Jordan Rodrigues ("The Fosters") and Sophie Vavasseur (Resident Evil: Apocalypse).
Movie Synopsis: Delivering more rivalry, fierceness and cheer puns like never before, the Bring it On franchise goes global for the very first time in the high energy sixth installment. Filled with all-new stunts and choreography, Bring It On: Worldwide #Cheersmack features 19 squads from around the globe, including teams from Australia, U.K., Germany and France, in addition to the Northern Elite Gymnastics and Cheer team from the United States. The film is the perfect hybrid of cheerleading and dance for a non-stop worldwide showdown.
Vivica A. Fox makes her Bring it On debut as Cheer Goddess, the Internet's most popular "Cheer-lebrity." When Destiny (Prosperi), captain of three-time national champions "The Rebels," is challenged to a global cheer showdown by an edgy new team called "The Truth," the Cheer Goddess organizes a virtual battle for squads from all around the world. It seems like the whole world wants to take down Destiny and her team, and they just might succeed, unless Density can rise to the challenge, set her ego aside and figure out who her real friends are.
You check out the trailer below.
Our Thoughts: When I was younger I did competitive cheerleading for 12 years. My team participated in national competitions in Nashville T.N. and Miami F.L. several times. I have to admit, our squad was extremely good and our entire team worked really hard to perfect our routines and stunts. Cheerleading is something that will always be in my "blood" and it was a good experience for me growing up.
Now that I'm a mother, my 8 year old daughter is following in my footsteps. She just completed our first year of cheer, gymnastics and dance. Her second year just started last week. Being a cheerleader is a lot of fun, but it's also a lot of hard work. It teaches girl's discipline and how to work together as a team to achieve one goal. Winning!
I sat down to watch the movie with my daughter and two of her teammates. The girls were really excited to see the film. I've seen all of the Bring It On movie installments, but this was the first movie that the girls have seen. The story line was really cool as it plays in modern time, with having the internet involved and squads from all around the world. The acting in this movie was really good and the girls were hooked to the TV screen from start to finish. After the movie was over, we re-started it and they were up off their seats trying out some of the dance moves and other things they saw during the movie. It motivated them in a good way.
My mom likes to rate movies according to a popcorn bucket movie rating scale, so I'll do the same. I'm giving Bring It On: Worldwide #Cheersmack 7 1/2 popcorn buckets out of 10 on our blog's rating scale. Definitely a good movie if you have pre-teens, teens and even young women in your home who are into competitive cheerleading, gymnastics and/or dance.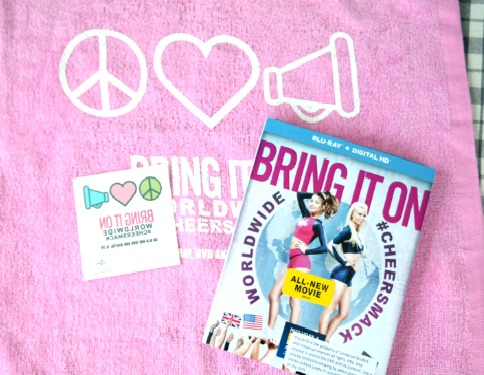 Giveaway: One lucky winner is going to win the new Bring It On: Worldwide #CheerSmack DVD, a Cheer Towel and 1 pack of temporary tattoos. Good Luck!
Giveaway Details: This giveaway is open to residents of the US ONLY age 18 and over. Please read our Terms of Service & Disclaimer Policy before entering. This giveaway will close on September 11th, 2017 at 11:59 pm EST time. No purchase necessary to enter or win.

Disclaimer: Jenelle C. has personally reviewed the product listed above. Jenelle has not received any monetary compensation for her review. Jenelle did receive a free product to try out so she could evaluate and use it for her review. Her thoughts & opinions in this review are unbiased & honest and your opinions may differ. Two Classy Chics is not responsible for delivery of any giveaway items won from this blog. We are not responsible for injury or mis-use of any products won from the Two Classy Chics Blog. Please read our Terms of Service & Disclaimer Policy before entering our giveaways. Thanks!